Women no longer need to keep their shirts on while working out at Edmonton's city gyms — a new rule change says a sports bra is an appropriate amount of cover-up.
In a bid to stay, um, abreast of changing workout fashion, gym-goers can now wear cropped shirts and sports bras that show off the stomach, so long as the workout gear is for "fitness purposes," reports the Edmonton Journal.
"Before, anything (that) would expose your midriff was not [allowed]," Annett Kamenz, with the City of Edmonton, told Global News.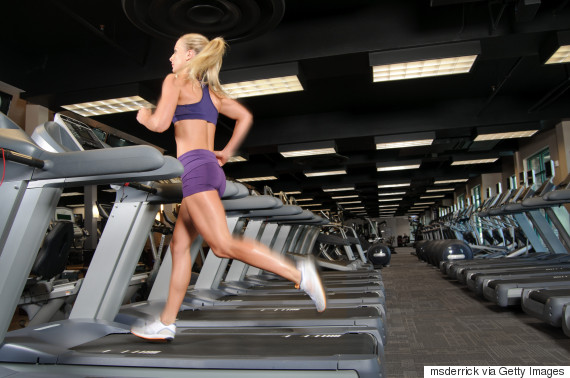 Before today, taking off your top at Edmonton city gyms was considered an inappropriate move for women. (Photo: Gettystock)
The new city policy outlines that gym clothing must be:
Clean and free of odours that may impact the experience of other users.
Free of inappropriate/offensive graphics or language.
Free of attachments such as buckles/velcro/snaps that might damage equipment.
Appropriate to the fitness/recreation environment/amenity being used, not be overly revealing, and must be mindful of the comfort of other users.
However, one woman who was asked to cover up back in December after being told her workout bra was inappropriate says the new rules are still too vague.
Coral Wiebe told CBC News she's still not sure how to make sure her gym kit is "mindful of the comfort of others."
"What they're saying is that I'm responsible for someone else's discomfort," Wiebe said. "Not my own comfort, not my own athletic need."
"What am I going to do, call ahead to the gym and ask...?"
"What am I going to do, call ahead to the gym and ask what kind of demographic or group of people is at the gym before I show up?"
Kamenz told Metro News the city is still working out the rule change and any language confusion will be cleared up "right away."
However, while women are now allowed to work out without a shirt, men are still not allowed to go topless.
Also on HuffPost
Best Bras For Big-Busted Women