No Steve Harvey, just no.
The "Steve Harvey Show" host is in hot water after racist comments he made last week about dating Asian men. The 59-year-old host ran a segment where he tried to make a joke (keyword: tried) while talking about a 2002 book titled, How to Date a White Woman: A Practical Guide for Asian Men.
Explaining that the book should only have a single page asking white women, "Excuse me, do you like Asian men?," the host followed up with his own answer: "No. Thank you."
And to make things worse (and seriously, we didn't think it could get worse), the "Family Feud" host made up a fake book called, How to Date a Black Woman: A Practical Guide [for] Asian Men,Mashable reports.
"Same thing," he said on television, hinting both white and black women wouldn't date Asian men. "You like Asian men?... I don't even like Chinese food."
"I don't eat what I can't pronounce."
Really Steve? In 2017?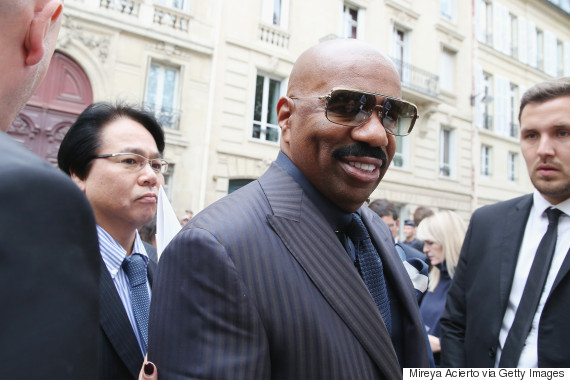 Television host Steve Harvey attends the Christian Dior show as part of the Paris Fashion Week.
Fortunately, the Internet was having none of it. On Twitter, some users pointed out that his comments are racist, not funny, while others pointed out his complete ignorance.
Steve Harvey mocked asian men, implying that they are unattractive/undesirable. This is complete ignorance.#Underratedasian

— Christy (@cxhaitea) January 11, 2017
Ive been attracted to TONS of asian men, but ive NEVER been attracted to a Steve Harvey. So theres that. https://t.co/66vCEHKdtG

— Sire L. Lamar-Becker (@SireLeoLamar) January 11, 2017
damn steve harvey must really be confused if he thinks asian guys are unattractive

— KAIA PAPAYA$$ 💔✨ (@ailanikai) January 11, 2017
*does not even care enough about steve harvey to come for him and his giant suits but here u go: that segment was racist and ur suitsr ugly* https://t.co/cF7E4jyhzd

— Tanya Chen (@Tanya_Chen) January 10, 2017
Steve Harvey is, and always has been, an ignorant, racist, and misogynist asshole.

— J. Freedman (@Jfreedman13) January 10, 2017
However, others also pointed out this still isn't an excuse for Asians (or anyone for that matter) to be anti-black.
Okay Steve Harvey's joke about Asian men being unattractive was trash but that doesn't mean Asians can use it as an excuse to be anti-black.

— big bad wolf (@CHOWKlNG) January 10, 2017
*grabs megaphone*

Fellow Asians, we can call out Steve Harvey's nonsense without being anti-Black pieces of garbage, FFS.

— Sal the Tater Thot (@salmattos) January 10, 2017
In the past, the Act Like a Lady, Think Like a Man author received backlash for misogynist and sexist comments from his book, and as Salon points out, this so-called dating expert's ideas around relationships have a "disturbing undercurrent of 'boys will be boys' apologia."
"[He is] arguing that men are this way for a reason and women might as well deal with it. On the subject of cheating, Harvey believes that men cheat because they are weak, but it's also a woman's fault if the man strays; after all, no man would do that if he were satisfied in his relationship."
Salon also reports that his screw up during the 2015 Miss Universe pageant (yes, that screw up), was just the tip of the iceberg.
"Of course, Harvey didn't admire these women for their immense contributions to making the world a better place but instead for their assets. According to [Bustle], Steve Harvey's commentary as the host was nothing but a series of comments about how great the ladies looked in their bikinis."
Harvey has yet to comment on his racist remarks about Asian men.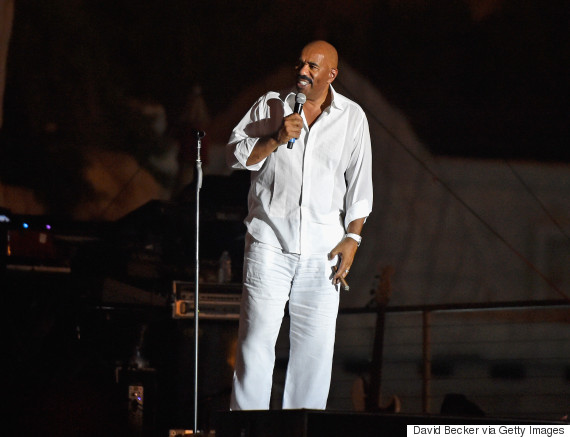 Also on HuffPost