Prime Minister Justin Trudeau says he used the private helicopter of the Aga Khan during his holiday trip to the Bahamas — travel that could well represent a violation of the Conflict of Interest Act.
Speaking to reporters in Kingston, Ont. as part of a cross-country tour, Trudeau was again asked about his family vacation to the religious leader's private Bell Island.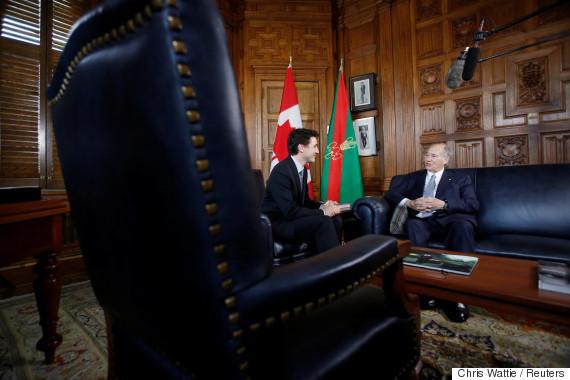 Prime Minister Justin Trudeau meets with the Aga Khan on Parliament Hill in May 2016. (Photo: Chris Wattie/Reuters)
National Post reporter David Akin noted that the prime minister travelled to Nassau on the government's Challenger plane, but the Aga Khan's island is located 115 kilometres from there.
"Could you explain how you travelled from Nassau to the Aga Khan's island?" Akin asked.
"The travel back and forth from Nassau to the island happens on the Aga Khan's private helicopter which he offered us the use of," Trudeau answered. "That's something I think we're in the process of explaining in detail to the media.
"And it's something that certainly we look forward to discussing with … the Conflict of Interest and Ethics Commissioner but we don't see an issue on that."
Requests for ethics probe
Conservative ethics critic Blaine Calkins has asked Ethics Commissioner Mary Dawson to investigate the details of Trudeau's vacation, as has Tory leadership candidate Andrew Scheer.
In a letter to Dawson Wednesday, Calkins noted that Section 12 of the Conflict of Interest Act states:
No minister of the Crown, minister of state or parliamentary secretary, no member of his or her family and no ministerial adviser or ministerial staff shall accept travel on non-commercial chartered or private aircraft for any purpose unless required in his or her capacity as a public office holder or in exceptional circumstances or with the prior approval of the Commissioner.
"Given that, according to yourself… the Prime Minister did not contact your office in regards to any elements of this trip, had he travelled on the helicopter, he would appear to be in violation of the Act," he wrote to Dawson.
Scheer's earlier complaint was focused on whether the "free vacation" constituted a gift that might be seen to influence Trudeau. The Aga Khan's foundation, which supports development projects in Africa and Asia, has received tens of millions of dollars from the federal government. It is a registered lobbyist.
Trudeau was also pressed on how such travel meets the standard he set with his own Open and Accountable government guidelines.
CBC News reporter Katie Simpson read aloud the following passage on sponsored travel:
Ministers and Parliamentary Secretaries must not accept sponsored travel, i.e. travel whose costs are not wholly paid from the Consolidated Revenue Fund, or by the individual personally, or his or her political party, or an inter- parliamentary association or friendship group recognized by the House of Commons. This includes all travel on non-commercial chartered or private aircraft for any purpose except in exceptional circumstances, and only with the prior approval of the Conflict of Interest and Ethics Commissioner and public disclosure of the use of such aircraft. Any hospitality accepted must strictly adhere to the requirements of the Conflict of Interest Act.
Simpson asked how he was able to "square" he didn't break the rules when they "so clearly say" online he can't accept that kind of travel.
Trudeau again said he would answer any questions from the conflict of interest commissioner.
"As I've said many times, the Aga Khan is a personal family friend and travel to and from the island only happens through private means," he said.
The Aga Khan, spiritual leader of 15 million Ismaili Muslims, is a long-time friend of the prime minister. He also served as an honorary pallbearer at the funeral of Pierre Trudeau.
Liberal MP Seamus O'Regan and party president Anna Gainey were also on the trip, accompanied by their families. O'Regan told the National Post that no government business was discussed.
Conservatives released a video on Twitter Thursday saying Trudeau admitted to breaking the rules while on TV.
Justin Trudeau admits to breaking the rules while on national television. #cdnpoli pic.twitter.com/utcAI9f3UR

— Conservative Party (@CPC_HQ) January 12, 2017
Also on HuffPost
PM Trudeau Posing For Selfies