Prince William rarely talks about losing his mother, Princess Diana, but when he visited a Child Bereavement UK centre on Wednesday, he felt compelled to.
While visiting the charity, which helps grieving kids and families, the Duke of Cambridge comforted a nine-year-old girl named Aoife who lost her father to pancreatic cancer at the age of three.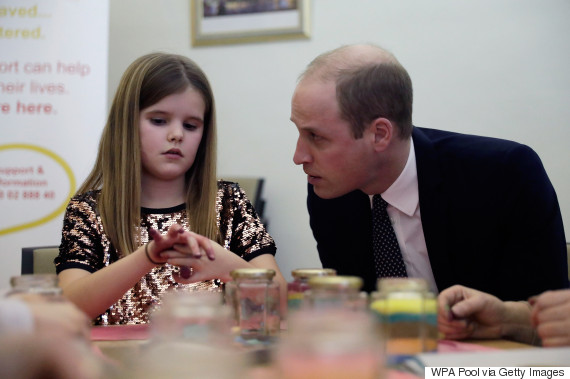 Duke of Cambridge speaks to Aoife, 9, during his visit to a Child Bereavement UK Centre.
"You know I lost my mommy when I was very young, too," he told the girl, according to ABC News. "I was [15] and my brother was 12. So we lost our mommy when we were young as well."
"It's very important to talk about it," he added. "Very, very important."
William also revealed to Aoife and other children at the event that he felt angry after losing his mother.
"He very specifically used that word anger, he felt angry about it," said one mom, Lorna, who witnessed William's meeting with the children. "He also told us how important it was to talk about how we feel when we lose someone as he found it very difficult to talk about it."
The Duke and Duchess find out how the @cbukhelp 'Memory Jar' exercise can help families dealing with bereavement pic.twitter.com/H5RpEmmCcT

— Kensington Palace (@KensingtonRoyal) January 11, 2017
It's been 20 years since Princess Diana died in a fatal car crash in Paris. Since then, William and his brother, Prince Harry, have rarely opened up about their loss. However, Harry previously revealed that he felt similarly to his big brother, in that he buried his feelings after her death.
"For a huge part of my life I didn't really want to think about it," Prince Harry said in a documentary for ITV last year.
Prince William is a patron of Child Bereavement UK. The charity's founder, Julia Samuel, was a close friend of Princess Diana.
Also on HuffPost
Princess Diana's Iconic Outfits