She was sanctioned by Russian President Vladimir Putin. He was awarded Putin's Order of Friendship.
She wrote a book on the "rise of the global super-rich." He made hundreds of millions of dollars in the oil industry.
The contrasts between new Foreign Affairs Minister Chrystia Freeland and U.S. Secretary of State nominee Rex Tillerson help remind us that there are other relationships key to Canada-U.S. partnership beyond that of Prime Minister Justin Trudeau and president-elect Donald Trump.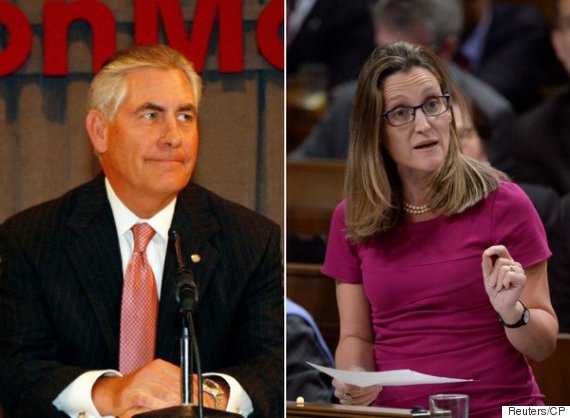 Rex Tillerson, left, is the nominee for U.S. Secretary of State, while Chrystia Freeland, right, is the new foreign affairs minister for Canada.
Other Canadian ministers will also have to find common ground with the prospective members of the next U.S cabinet. (Watch the video above to see how some key members of Trudeau's inner circle line up with the people Trump aims to have advising him.)
Despite views on Russia's aggression that are evidently not shared by Trump or Tillerson, Freeland made clear this week that she is seeking common ground, particularly on trade. She pointed out to reporters on Parliament Hill that the federal government has already held several meetings with Trump's team.
"I think that's what Canadians expect us to be doing, to be forming relationships, to be getting to know the new U.S. administration," she said. Being able to pick up the phone and reach her counterpart will pay dividends, she suggested.
"We've been laying the groundwork for some personal relationships," she said.
Those relationships won't always be easy. At his confirmation hearing before the Senate this week, Tillerson faced a grilling on Putin's actions in Ukraine and Syria, and said he didn't have enough information to call Putin a war criminal.
Freeland's office, meanwhile, said she would not seek to ease sanctions on Russia in order to have her travel ban lifted.
"There is no quid pro quo for aggression and illegal action on their part," Freeland's spokesman told The Canadian Press.
With a file from The Canadian Press
Also on HuffPost
Trudeau Cabinet's Order Of Precedence