Tributes poured in Monday from friends and colleagues of a longtime Toronto bouncer who died in a shooting attack at a music festival in Mexico.
Kirk Wilson was identified in several Mexican reports as among five people killed when gunfire broke out at the crowded beachfront Blue Parrot nightclub as it throbbed with electronic music.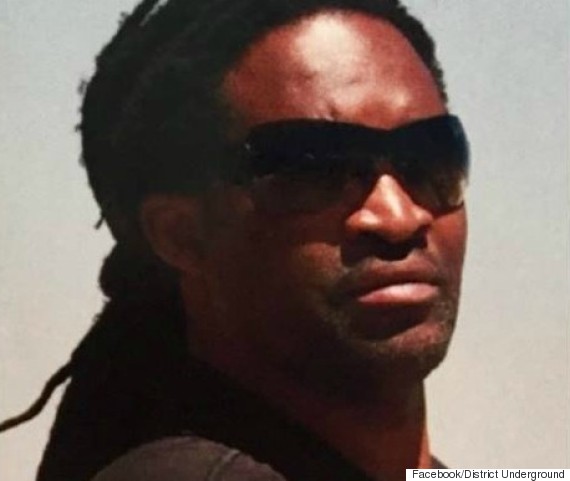 Kirk Wilson, a Canadian man killed in a shooting in Mexico, was a longtime bounce in Toronto.
Without providing nationalities, Quintana Roo state government gave the names of three of those killed. They included Kirk Wilson, who the state identified as the BPM security supervisor at Blue Parrot, and Daniel Pessina and Rafael Antonio Penaloza Vega.
The shooting set off a bloody stampede by screaming concertgoers at the international festival in the resort of Playa del Carmen.
Longtime friend Neil Forester said Wilson was working security at the annual BPM Festival and was one of several people from the Toronto area lending a hand to the festival's Canadian organizers.
"He was just a genuine, one-of-a-kind guy,'' said Forester, who described Wilson as having no ego and no attitude. "He was the first guy you called whenever you needed something.''
While Mexican authorities said two Canadians were among the five dead, Global Affairs Canada confirmed one Canadian death and was working to verify whether there was a second.
"He was the first guy you called whenever you needed something.''
Federal officials say at least two other Canadians were wounded.
Forester, a corporate event promoter in Toronto, described Wilson as a fixture on the Toronto club scene _ a stocky 6-5 man with waist-length dreadlocks who freelanced in security and running the front door of various Toronto clubs.
"He had a nickname — 'Kirk with the dreads,''' Forester said. "He was just a really amazing guy that treated everyone with respect — whether it was patrons, co-workers or whoever it may be.''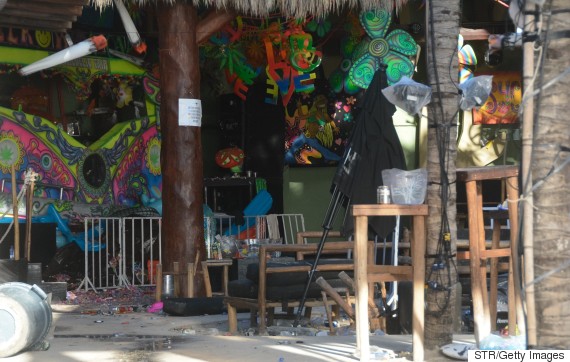 View of the Blue Parrot nightclub in Playa del Carmen, Mexico where 5 people were killed during a music festival on Monday.
Forester said Wilson, 49, was married with two children and living in the Hamilton, Ont., area.
Wilson's wife didn't want to talk to the media and the family is "obviously devastated and shocked,'' he said, adding that Wilson's children were in school when the family learned of his death.
"He was just a really amazing guy that treated everyone with respect.''
There was plenty of sorrow online, where musicians and clubgoers expressed condolences and thanked Wilson for keeping them safe over the years.
A company that employed him also expressed its condolences.
"We can confirm that Kirk Wilson was a longtime employee and great friend of INK Entertainment,'' the firm said in a statement. "Our team is overcome with grief over this terrible tragedy and would like to express our sincerest condolences to his family and friends for their loss.''
Terrorism ruled out
State Attorney General Miguel Angel Pech ruled out any terror attack, but said the shooting erupted when festival security personnel tried to stop a man from entering the club with a gun.
State officials said the dead included two Canadians, an Italian and a Colombian. The gunman apparently fled.
Italy's Foreign Ministry confirmed one of its citizens died.
"I was thinking it was the same thing that happened in Paris, some guy just walking in and shooting people at a restaurant, bang bang bang, a terrorist attack,'' said New Zealand tourist Tyler Klee, who was outside the club when shots rang out.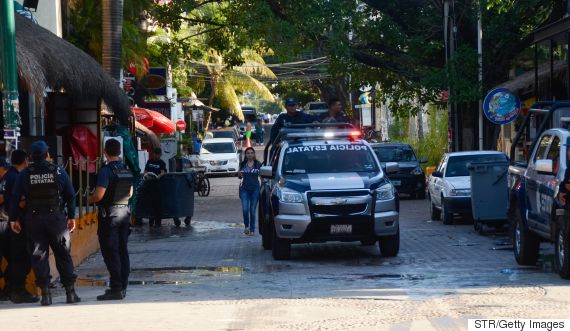 Mexican police agents patrol near a nightclub in Playa del Carmen where 5 people were shot to death on Monday.
"Everyone run, everyone was terrified, looking for their friends ... We were running away and then you hear more shots fired, like you don't know if you're going to shot in the back or not.''
His friend Ben Forbes, from Australia, said "it happened pretty quickly as well ... You still didn't know where they were, how many there were.''
Pech said the 15 people with injuries included a Mexican woman who was seriously injured.
He said eight of the injured, including two U.S. citizens, were treated at hospitals and released.
The shooting occurred near the largest exit, setting off chaos as concert goers had to scramble over a metal fence to escape to the beach.
"Everyone was terrified, looking for their friends ..."
Jeffrey Castelein, 33, a fork lift operator from Belgium, said he heard 15 to 20 shots before he and his friends leapt the fence. "At first we didn't realize, and then everybody fell down and you had to hide a little bit. And then we went out the back by the sea.''
His group got separated and had to wait for everyone to meet back at the apartment. "It was the longest 20 minutes of my life,'' Castelein said.
Pech said the shooter apparently tried to enter the nightclub about 2:30 a.m., but was denied access because he had a gun. He then began to exchange fire with another person, and festival security personnel who tried to stop the shooting came under fire, Pech said. He said 20 bullet casings from three different pistols were found at the scene, but it was unclear if the security detail was armed or fired any of the weapons.
Pech said the gunman himself apparently escaped, though three people had been detained nearby. It was not known if they had been involved in the shooting.
:We know of another shooting incident that occurred near the nightclub, but we are investigating whether that is related'' to the deadly shooting, Pech said.
Quintana Roo Gov. Carlos Joaquin attributed the shooting to "the intolerance and conflict of interests between two people,'' but did not specify what those conflicts were. He said the two exchanged gunfire.
Playa del Carmen has largely been spared the violence that has hit other parts of Mexico.
The state tourism department said the shooting was an "isolated act of violence'' and stressed that "the situation in Playa del Carmen is under control and Mexican and foreign tourists can feel protected and safe.''
With files from Peter Cameron in Toronto and from The Associated Press
Also on HuffPost
FRANCISCO COBOS via Getty Images

FRANCISCO COBOS via Getty Images

FRANCISCO COBOS via Getty Images

FRANCISCO COBOS via Getty Images

FRANCISCO COBOS via Getty Images

FRANCISCO COBOS via Getty Images

JULIO CESAR AGUILAR via Getty Images

JULIO CESAR AGUILAR via Getty Images

JULIO CESAR AGUILAR via Getty Images

JULIO CESAR AGUILAR via Getty Images

JULIO CESAR AGUILAR via Getty Images

JULIO CESAR AGUILAR via Getty Images

JULIO CESAR AGUILAR via Getty Images

JULIO CESAR AGUILAR via Getty Images

JULIO CESAR AGUILAR via Getty Images

JULIO CESAR AGUILAR via Getty Images

JULIO CESAR AGUILAR via Getty Images

JULIO CESAR AGUILAR via Getty Images

JULIO CESAR AGUILAR via Getty Images

JULIO CESAR AGUILAR via Getty Images

JULIO CESAR AGUILAR via Getty Images