As the federal Conservative leadership race crawls to its finale in May, contenders are juggling between campaigning for support and ripping on each other.
Erin O'Toole, however, has vowed to refrain from attacking his rivals and is focusing his sights squarely on Prime Minister Justin Trudeau.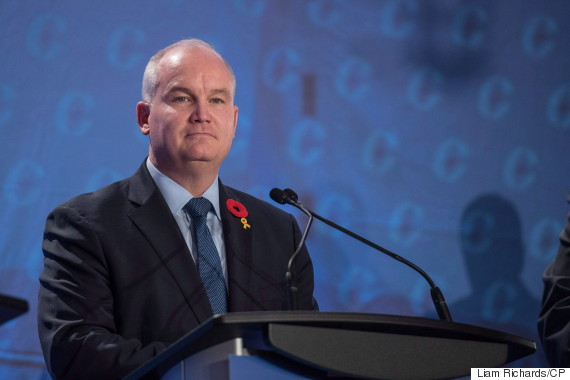 Conservative leadership candidate Erin O'Toole speaks during a debate in Saskatoon on Nov. 9, 2016. (Photo: Liam Richards/CP)

On Tuesday, O'Toole shared a video on Facebook parodying the Netflix drama "House of Cards." The clip is titled "House of Trudeau" and "shines a light on the corruption and incompetence that reign supreme in Trudeau's Ottawa," according to the Tory MP's post.
Watch the clip below:
House of Trudeau: Chapter One

House of Trudeau is a first-of-its-kind web series that shines a light on the corruption and incompetence that reign supreme in Trudeau's Ottawa.

LIKE & SHARE if you'd like to see more videos like this and take a few seconds to sign up as a supporter at www.erinotoole.ca/support.

The job of the next leader of the Conservative Party is defeating Justin Trudeau. I won't tear down fellow Conservatives. I'll unify the party, take the fight to Justin Trudeau and win. But I need your help.

Posted by Erin O'Toole on Tuesday, January 17, 2017
The video mimics scenes from the show where text bubbles on screen show dialogue between characters. In this case, it's Trudeau and his principal secretary, Gerald Butts, discussing the PM's recent trip to the Aga Khan's private island, as well as Trudeau's "to do list" — which includes taking selfies and trying to "relate to regular people" on his cross-country tour.
Enter the dragon
O'Toole, who served as veterans affairs minister in the former Conservative government, made the promise to refrain from bashing his fellow leadership contenders on Jan. 9.
"It's tempting to succumb to personal attacks in an environment where the loudest and most outrageous statements win the most attention," he said in a statement at the time.
Speaking of being loud to win attention, a healthy chunk of the leadership race's coverage has been commanded by Kevin O'Leary, the "Shark Tank" star and money aficionado.
O'Leary announced he's running for the leadership race on Wednesday.
Also on HuffPost
Conservative Leadership Candidates