A puppy in Scotland is somehow alive after swallowing a 20-centimetre-long kitchen knife.
Macie, from Glasgow, underwent emergency surgery at an after-hours emergency vet clinic after her owner noticed she started choking, according to a press release from the U.K. charity People's Dispensary for Sick Animals.
"By the time we arrived at the vet's, there was blood coming out of her nose," Irene Paisley said in the release.
X-rays showed the knife had passed into the then-12-week-old Staffordshire bull terrier's intestines.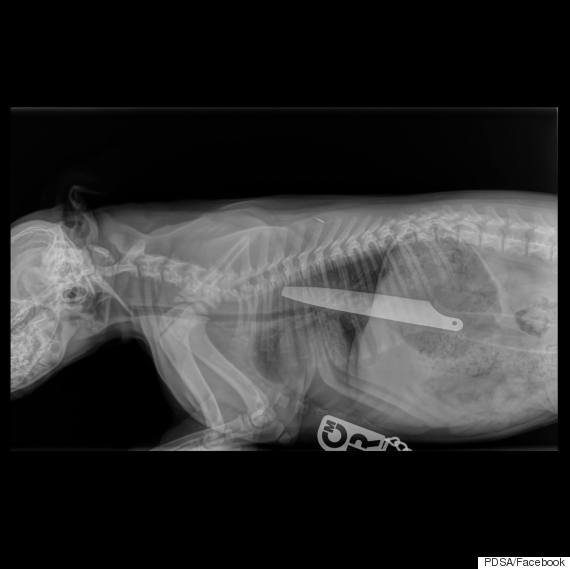 An x-ray of 12-week-old puppy Macie after she swallowed a kitchen knife. (Photo: PDSA/Facebook)
"She was extremely lucky to survive," veterinarian Emily Ronald said in the PDSA release.
"Her saving grace was that she swallowed the handle-end first – the blade-end would undoubtedly have pierced her organs, likely causing fatal injuries."
The operation was successful and Macie was back to her energetic self the morning after surgery.
This is by far not the first case of animals swallowing bizarre objects.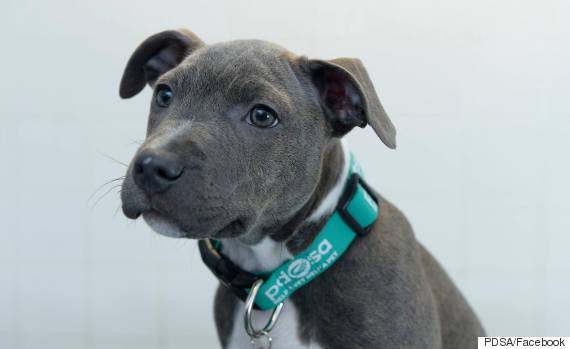 Staffordshire Bull Terrier Macie is very lucky after she swallowed a knife handle-end first instead of the other way around. (Photo: PDSA/Facebook)
Another U.K. dog owner had to fork over nearly C$2000 last year after his pet swallowed 24 rubber gloves.
And a pooch in Australia survived after ingesting a fish hook.
Also on HuffPost