OTTAWA — Justin Trudeau has affirmed Canada's support of NATO, days after president-elect Donald Trump's pronouncement that the military alliance is obsolete.
But the prime minister stopped short of saying he would be willing to boost the defence budget so Canada could meet NATO's spending target for its member countries.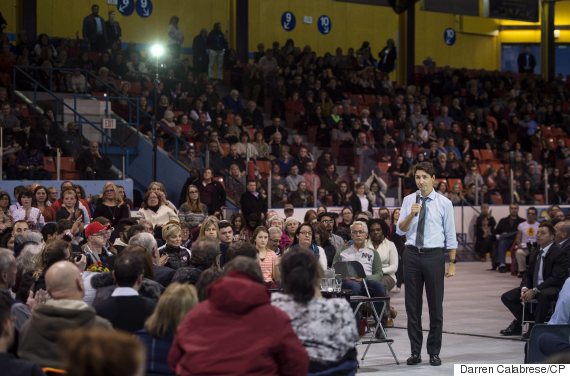 Prime Minister Justin Trudeau is shown at a town hall in Halifax on Jan. 16, 2017. (Photo: Adrian Wyld/CP)
Trudeau cited Canada's leadership in Latvia, where it will contribute 450 troops and command several national contingents as part of a military deterrent to Russia on Europe's eastern flank.
He said that was "a great example of how Canada continues to be an extraordinarily important player in NATO and we will continue to be a reliable partner, not just to the United States, but to all of our allies as we move forward."
The Liberal chair of the House of Commons foreign affairs committee has told The Canadian Press that Canada will have to contribute more to the 28-country alliance if the United States — its largest financial and military contributor — scales back its involvement as Trump has suggested.
'Countries like ours will have to step up to the plate'
"That means countries like ours will have to step up to the plate," Bob Nault said in an interview Monday.
Speaking to reporters in New Brunswick today, Trudeau said: "When there's heavy lifting to do, when there's a need for people to step up, Canada is there on the front lines contributing fully to NATO operations."
Trump criticized NATO during the U.S. election campaign, and sparked surprise in Europe when he levelled more attacks this week.
Canada at 23rd in spending
But Trump's nominee for defence secretary, retired Marine general James Mattis, spoke in support of NATO during his congressional confirmation hearing last week.
Analysts say Trump will expect other NATO members to increase spending in the alliance to ease the burden on the United States.
Canada lags at 23rd in spending in NATO, and currently contributes about one per cent of GDP to defence spending — well below the alliance's two-per-cent target. The U.S. is one of only five NATO countries that meet the spending target.
Also on HuffPost
Trudeau's Cross-Country Tour 2017