When The Huffington Post Canada last checked in on Esther the Wonder Pig almost three years ago, she was tipping the scales at a whopping 300 pounds. At the time, her owners expected her to gain a couple hundred more.
But since then, Esther has more than doubled in size and currently weighs more than an average polar bear – at about 650 pounds.
Toronto couple Derek Walter and Steve Jenkins adopted Esther in 2012. They were under the impression they were adopting a "mini pig" that would hit a maximum weight of 70 pounds. She weighed about four pounds when they brought her home.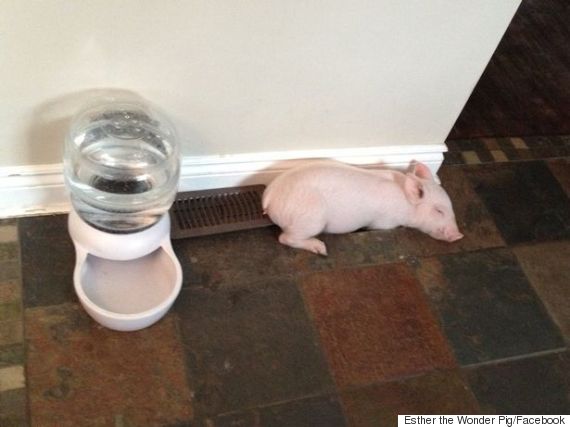 Esther relaxes in her new home shortly after she was adopted in 2012. (Photo: Esther the Wonder Pig/Facebook)
But they quickly realized they had been misled. The needle on the scale kept creeping up, and Esther continued to pork out.
Esther also flipped the couple's pre-pig world upside down: they transitioned to a vegan diet and moved to Campbellville, Ont. to open the Happily Ever Esther Farm Sanctuary.
When Esther isn't posing for Facebook and Instagram photos that get shared to her millions of followers, she's either eating or enjoying her time as a "pig of leisure," her owners told the Mirror. Her diet consists of mostly fruits, vegetables and grains, but she enjoys the occasional pint of Ben & Jerry's ice cream or a cake once in a while.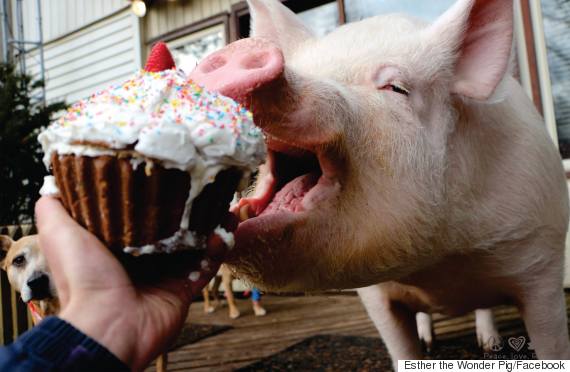 Treat yo'self, says Esther. (Photo: Esther the Wonder Pig/Facebook)
The house-trained pig had a book on the New York Times Best Seller list last summer, and has recently been entertaining male suitors, as chronicled in this delightful post from The Dodo.
Despite her size, her owners are "not 100 per cent" sure that she has stopped growing.
"According to our vet she should be pretty much done growing at her age but she may get a little but fatter as she matures," the FAQ on Esther's website reads.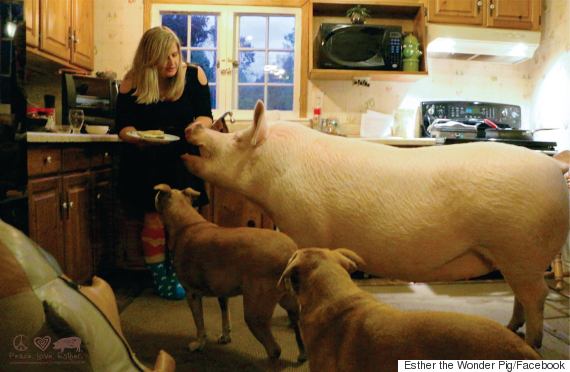 Esther samples from the kitchen in this 2016 photo. (Photo: Esther the Wonder Pig/Facebook)
"That's where the 'wonder' comes in."
Follow The Huffington Post Canada on Facebook, Twitter, and Instagram.
Also on HuffPost