A Halifax mother says she was called a "bitch" and "child abuser" on social media after Ezra Levant re-posted a photo of her taking her son to see Justin Trudeau.
Erin Moore, a journalism instructor at Nova Scotia Community College, took her seven-year-old to the prime minister's town hall on Monday. She posted a photo on Twitter, saying they had waited an hour in the cold to get into the event.
Levant retweeted Moore's photo with the caption "'Journalism Instructor'" to which she responded.
"The implication I'm guessing is that I couldn't possibly have journalistic integrity if I took my child to a Liberal event," Moore wrote in the Halifax Examiner.
"My Twitter account started blowing up with mostly anonymous users calling me a child abuser, a bad mother, and a bitch. Hundreds of them. They're still coming."
The former Sun News host shared an exclusive excerpt of his new book, Trumping Trudeau, on Breitbart News on Wednesday.
The site used to be run by Steve Bannon, who is now chief strategist to U.S. President-elect Donald Trump. Bannon described the site as the "platform of the alt-right," which is a U.S.-based offshoot of conservatism that combines elements of racism, white nationalism and populism.
Moore said it was her intention was to introduce her son to politics and encourage him to become an engaged citizen.
Trudeau was in town taking questions as part of a cross-country tour. Over the next few weeks, he's set to visit Ontario, Quebec, British Columbia and the prairies, with later trips to the north and the Maritimes.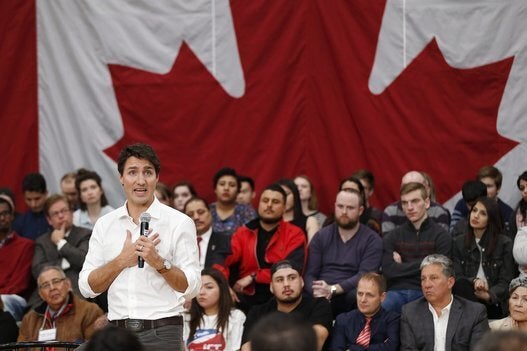 Trudeau's Cross-Country Tour 2017