The newest contender for the Conservative leadership says the words that helped make him famous "don't mean anything."
Celebrity businessman Kevin O'Leary, perhaps best known as a TV commentator and judge on CBC's "Dragon's Den" and ABC's "Shark Tank," confirmed Wednesday that he is running to replace Stephen Harper as the Tories' permanent leader.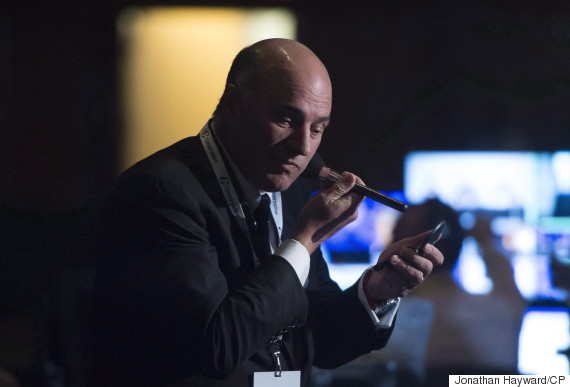 Kevin O'Leary applies his own makeup ahead of an interview at the Conservative convention in Vancouver in May 2016. (Photo: Jonathan Hayward/Canadian Press)
In an interview with CTV's "Your Morning," the investor attempted to downplay concerns about some of the controversial and eyebrow-raising remarks Canadians may have heard him make on TV over the last decade.
O'Leary noted that he had some memorable disagreements with business journalist Amanda Lang on their former CBC show, "The Lang & O'Leary Exchange."
"There's 10,000 hours of things that I've said. I expect all of them to get regurgitated," he said. "They don't mean anything. They're not policy. Guys, this is the real deal. This is about Canada.
"I don't care what I said 10 years ago. What matters is how are we going to fix this country?"
"I don't say things without thinking about them. You may not agree with me, but ... as far as I'm concerned we need a lot more Kevin O'Learys in Canada."
— Kevin O'Leary in 2011
At least one rival is wasting no time reminding Conservatives about the views O'Leary has expressed.
Ontario MP Lisa Raitt, who launched the attack website StopKevinOLeary.com earlier this month, released a statement Wednesday titled: "Kevin O'Leary will tear us apart."
Raitt charged that the businessman has a "long record of saying whatever ridiculous thing comes to his mind," listing as an example O'Leary's recent musings about allowing Canadians to buy Senate seats.
She also noted that he was censured by the CBC ombudsman in 2011 for "making 'racist' remarks about First Nations people on national TV."
'Indian giver' controversy
Six years ago, O'Leary called Lang an "Indian giver with a forked tongue," sparking a complaint from an aboriginal viewer.
O'Leary later apologized, but told The Globe and Mail he typically stands by the things he says.
"I don't say things without thinking about them. You may not agree with me, but ... as far as I'm concerned we need a lot more Kevin O'Learys in Canada," he told The Globe.
U.S. president-elect Donald Trump also faced questions on the campaign trail about past remarks he made on his reality show, "The Apprentice," and with radio host Howard Stern that were sexist and demeaning. Trump dismissed those concerns by saying a lot of it was "done for the purpose of entertainment."
O'Leary has denied he is Canada's watered-down version of Trump — despite the obvious comparisons of wealth and celebrity — by pointing to his support for immigration and multiculturalism. Still, it's a safe bet O'Leary will likewise be asked to answer for his past remarks.
&nbsp
At her earlier conference blasting O'Leary, Raitt called him a "TV entertainer with no filter" who thinks that "3.5 billion people living in poverty is fantastic news."
Raitt was referencing a 2014 segment on "The Lang & O'Leary Exchange" in which O'Leary reacted to an Oxfam report showing the world's richest people hold the same wealth as the poorest half of the planet's population.
"This is a great thing because it inspires everybody, gets them motivation to look up to the one per cent and say, 'I want to become one of those people, I'm going to fight hard to get up to the top,'" he said at the time.
O'Leary also landed in hot water in 2011 after a memorable segment with Pulitzer Prize-winning write Chris Hedges, addressing the Occupy Wall Street protests.
O'Leary called the demonstrators "nothing burgers," said the protests were "very weak, very low-budget" and accused Hedges of sounding like a "left-wing nutbar." Hedges said he doesn't go on shows where people "descend to character assassination" and said it felt like being on Fox News.
CBC's ombudsman later said the segment, which yielded hundreds of complaints, violated the public broadcaster's journalistic standards.
More recently, U.S. websites such as Business Insider highlighted a "Shark Tank" segment last year in which an entrepreneur rejected O'Leary's offer of investment because he didn't want to work with him.
"You're an asshole," O'Leary shouted. "Get the f--- out of here."
Conservatives will vote for their new leader on May 27. There are 14 candidates so far.
With files from The Canadian Press, earlier files
Also on HuffPost
Conservative Leadership Candidates