Prime Minister Justin Trudeau took a break from his cross-country tour to chat with Mark Critch on Tuesday's episode of "This Hour Has 22 Minutes."
The PM joined the CBC comedian while at a stop in Dartmouth, N.S. to talk about what he's been hearing during the public town halls the government has been organizing across Canada.
But first, Critch had to ask about something else.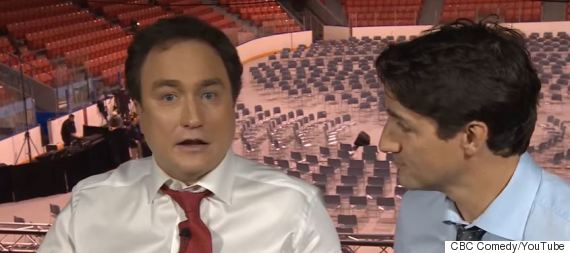 "This Hour Has 22 Minutes" host Mark Critch speaks to Prime Minister Justin Trudeau in Dartmouth, N.S. (Photo: CBC Comedy/YouTube)
"You look rested. What have you been doing?" Critch asks the PM. Just before Trudeau could answer, he cuts in to ask if he's been on vacation lately.
"Took a little time with the family," Trudeau says.
"Oh, cool! We didn't hear about that!"
Critch was referring to Trudeau's now-controversial trip to the private island of the Aga Khan in the Bahamas. The PM's holiday, which he disclosed only after being questioned by the media, is currently being investigated by federal ethics commissioner Mary Dawson.
Critch eventually touches on Trudeau's tour. He notes the PM's travels across the country to help solve people's problems have turned him into "The Littlest Hobo" — a crime-fighting canine whose TV show has inexplicably not been rebooted yet.
Watch the full segment in the video embedded above.
Also on HuffPost
Trudeau's Cross-Country Tour 2017