Millions of Canadians get their periods every month, but believe it or not, some can't afford basic menstrual supplies.
Some girls are even missing school because of it, according to a northern Saskatchewan MP.
Georgina Jolibois, who is based in La Loche, Sask., told The Huffington Post Canada that food and personal hygiene products are pricey in the northern part of the province. And some communities are so small that people might have to drive an hour simply to find a store in a town that sells them, she said.
"It is very expensive, not to only buy the tampons or the pads, but also [treatment] for their cramps," she told CBC News.
"They might not have the money to buy Midol or other pain-relief medication, so they stay home."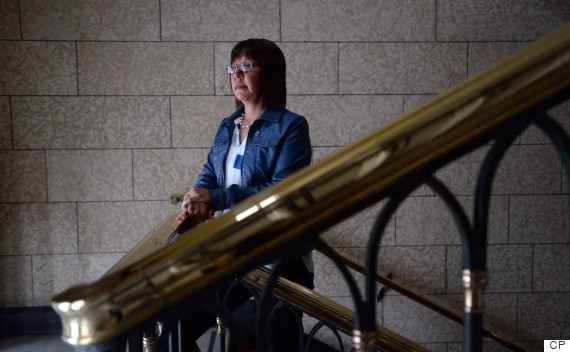 NDP MP Georgina Jolibois is seen on Parliament Hill in February 2016.(Photo: Sean Kilpatrick/The Canadian Press)
It creates unfair barriers, she said: "All Canadian women ... should have the ability to participate freely and equally in Canadian society."
A new organization in Regina hopes to provide a solution with free menstrual cups. The silicone cups are reusable, environmentally friendly and generally cheaper than their disposable counterparts. They sell for about $40 online and can be worn for up to 12 hours before being emptied.
Typically a problem in impoverished countries
Staying home while on your period is a problem more common in impoverished countries.
A study from Uganda cited by The Guardian found that girls in rural areas miss, on average, more than 10 per cent of their school days annually because of a lack of pads and access to bathrooms, and even bullying because they have their periods.
Your Time Women's Empowerment Foundation originally planned to help girls in Colombia, but the organizers soon discovered that there was also a need in their own province.
"We have three board members that go up into northern Saskatchewan quite often, and they said, 'Wait a minute, we should be doing something here in our own backyard,'" Sandy Beug, the group's president, told HuffPost Canada.
"It is appalling that that's happening right here in Canada."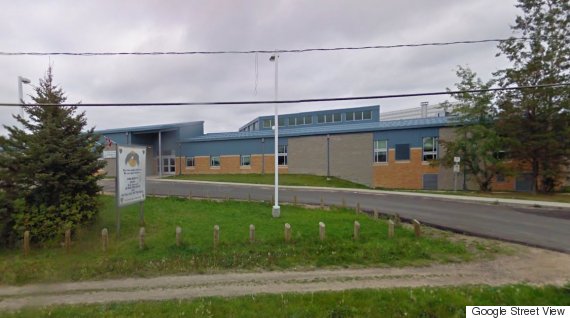 La Loche Community School is located in one of the communities in Georgina Jolibois' riding. (Photo: Google Street View)
Secretary Lisa Peters said she's heard from Street Culture Project, which helps vulnerable people in Regina, that young homeless women are missing school because they can't afford pads or tampons, much less food.
Together with DivaCup, a Canadian company that makes the cups, the group plans to distribute them to Street Culture Project, as well as an organization that helps impoverished young people in Colombia.
After that, they hope to go into northern Saskatchewan.
Their goals are to identify girls and women in need, educate them on how to use the cups and sanitize them, as well as answer any questions about reproductive health.
"It is appalling that that's happening right here in Canada." — Sandy Beug, Your Time Women's Empowerment Foundation
"I know it's going to be a little icky in the beginning, and they're going to get over it, because the benefits are going to be incredible," Peters said about the cups.
"With the DivaCup, once you get the hang of it, you can wear that almost all day at school."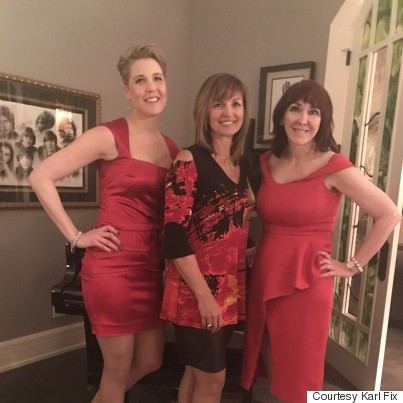 Lisa Peters, Lois Vanderhooft and Sandy Beug at a fundraiser for Your Time Women's Empowerment Foundation that raised $18,000. (Photo: Courtesy Karl Fix)
Jolibois, who advises the group, likes the idea. But she repeatedly stressed the sensitivity of the issue, adding that she didn't feel comfortable revealing details about her constituents' experiences.
Peters thinks that stigma is part of the problem. Girls feel embarrassed to ask, and it isn't an issue that occurs to many men.
"If we just start the conversation, and we can keep a few more girls in school, then the world's going to be a better place."
Also on HuffPost
11 Questions Women Have About Their Periods