One of the apple's biggest turnoffs is that it browns.
Say you just want to eat half and save the other half for later? Or it gets knocked around in your bag?
After being damaged in basically any way, the poor fruit bruises.
But one B.C. apple grower thinks he has a solution: a genetically-modified apple that doesn't brown.
Neal Carter, the president of Okanagan Specialty Fruits, told Good Fruit Grower that a sliced Arctic Apple can last three weeks without browning if they're washed in chlorinated water and kept cold.
The fruit has less of an enzyme called polyphenol oxidase, which jumpstarts a chemical reaction that browns the flesh of an apple when its cells are damaged by biting, slicing or bruising.
Granny Smith and Golden Delicious varieties have been approved for sale in both the U.S. and Canada, and the Fuji has also been approved in the U.S.
And next month, pre-sliced Arctic Golden Delicious apples are expected to pop up on select U.S. shelves.
10 stores in the country's midwest will carry the genetically modified snack in February and March, according to Capital Press.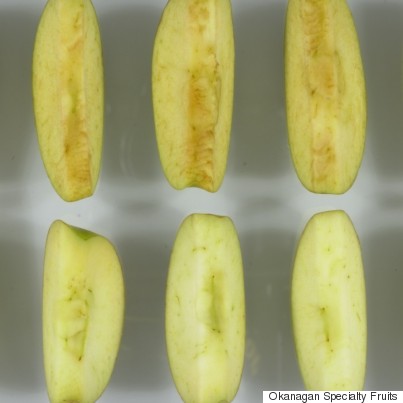 Slices of regular apples on the top versus Arctic Apples. (Photo: Okanagan Specialty Fruits)
But it will likely be a few years before you'll see the apples in Canada.
"Our goal right now is to learn as much as we can from this test marketing exercise in the U.S.," Carter told the Kelowna Daily Courier.
The company doesn't have enough fruit right now to sell all across the United States, he said.
But it reached its 2016 goal of planting 70,000 trees and plans 300,000 in 2017, according to a press release.
The apples are only grown in New York and Washington State, Good Fruit Grower reported at the end of December.
"We really just think it's a solution to a problem that doesn't exist." — Canadian Organic Growers board member Sarah Dobec
Not everyone is as excited as Neal Carter about the possibility of the fruit entering the Canadian marketplace.
A 2012 study from the BC Fruit Growers' Association and the Québec Apple Producers' Association found 69 per cent of respondents didn't want Health Canada to approve the apple.
"We really just think it's a solution to a problem that doesn't exist," Sarah Dobec, a board member of Canadian Organic Growers, told The Canadian Press in 2015.
"Apples brown for a reason and that's nature telling us that it's slowly degrading or oxidizing, so to remove that function of the biology of the apple doesn't seem to serve anybody really."
Health Canada says there's no published scientific evidence that genetically modified foods are more harmful than traditional varieties.