Prime Minister Justin Trudeau highlighted the "integrated economies" of the United States and Canada and the importance of trade in his statement marking the inauguration of Donald Trump Friday.
Meanwhile, the Trump administration has already made clear that it will seek to withdraw from the North American Free Trade Agreement (NAFTA) if its partners prove unwilling to reopen the deal.
Trudeau congratulated Trump by lauding the unique partnership between the two countries.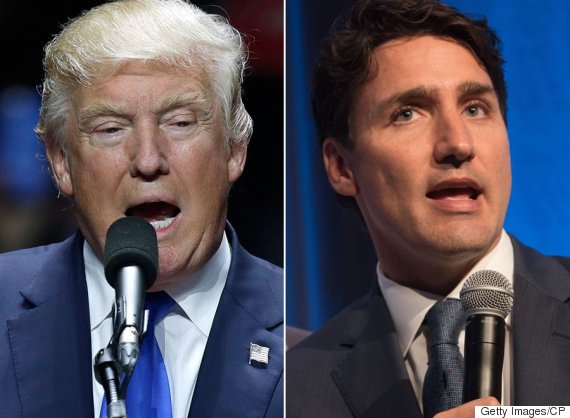 (Prime Minister Justin Trudeau and U.S. President Donald Trump. (Photo: CP/Getty)
"Together, we benefit from robust trade and investment ties, and integrated economies, that support millions of Canadian and American jobs," Trudeau said in the release. "We both want to build economies where the middle class, and those working hard to join it, have a fair shot at success."
The prime minister also referenced "unparalleled cooperation" on defence and border security.
His said his government looked forward to working with Trump and the new U.S. Congress to "restore prosperity to the middle class on both sides of the border, and to create a safer and more peaceful world."
"Together, we benefit from robust trade and investment ties, and integrated economies, that support millions of Canadian and American jobs."
Around the time Trudeau's release was posted online, the official White House website posted the "top issues" of the new administration, including "Trade Deals Working For All Americans."
The site promises the Trump administration will put U.S. businesses first when it comes to trade, stemming the flow of factories and jobs from blue-collar towns and cities.
"This strategy starts by withdrawing from the Trans-Pacific Partnership and making certain that any new trade deals are in the interests of American workers," it reads.
"President Trump is committed to renegotiating NAFTA. If our partners refuse a renegotiation that gives American workers a fair deal, then the President will give notice of the United States' intent to withdraw from NAFTA."
'America first' on trade: Trump
That's much the same message Trump delivered during his inauguration speech.
"We assembled here today are issuing a new decree to be heard in every city, in every foreign capital, in every hall of power. From this day on a new vision will govern our land," Trump said. "From this day onwards it is only going to be America first.
"Every decision on trade, on taxes, on immigration, on foreign affairs will be made to benefit American workers and American families."
Trudeau's statement is reminiscent of what he told a town hall in Halifax this week when asked about Trump's policies. Though the prime minister has been dubbed the "anti-Trump" in U.S. media, he has resisted criticizing him sharply.
"As different on some levels as my approach is from the incoming president ... we both got elected on a commitment to help the middle class and we're going to be able to find common ground on doing the kinds of things that will help ordinary families right across the continent,'' Trudeau said.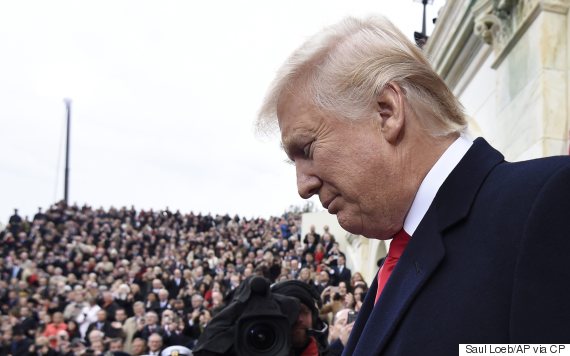 Donald Trump arrives for his presidential inauguration on Capitol Hill in Washington on Jan. 20, 2017. (Photo: Saul Loeb/AP via CP)
Trudeau has said he's prepared to discuss NAFTA with the Trump administration. Earlier this month, he shuffled his cabinet to appoint former international trade minister Chrystia Freeland to foreign affairs. Freeland, who helped negotiate the Canada-EU trade deal, will retain responsibility for Canada-U.S. trade.
The prime minister also named former general Andrew Leslie as Freeland's parliamentary secretary, with a special focus on Canada-U.S. relations. Trump's proposed cabinet will include a number of former generals and military commanders.
With a file from The Canadian Press
Also on HuffPost
Obama /Trump Inauguration Crowds