The White House website has been updated with a new trade strategy in the wake of President Donald Trump's inauguration.
"This strategy starts by withdrawing from the Trans-Pacific Partnership [TPP] and making certain that any new trade deals are in the interests of American workers," the website states.
"President Trump is committed to renegotiating NAFTA," it continues. "If our partners refuse a renegotiation that gives American workers a fair deal, then the President will give notice of the United States' intent to withdraw from NAFTA."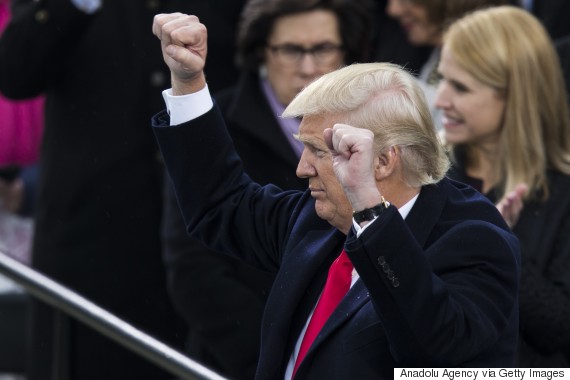 President Donald Trump raises his fists to the crowds during his inauguration on Friday. (Photo: Samuel Corum/Anadolu Agency/Getty Images)
Many critics argue that Trump's desire to withdraw from the 12-country TPP, which includes Canada, Mexico and Japan, contradicts his anti-China attitude on trade.
They see the trade deal — which excludes China but includes other Asian countries like Malaysia, Singapore and Vietnam — as an attempt to limit China's economic influence.
Scrapping the deal in essence strengthens China's economic dominance in Asia, critics say.
And the U.S.'s withdrawal from the TPP has not yet killed the deal entirely. Just last weekend, Australian Prime Minister Malcolm Turnbull and Japanese Prime Minister Shinzo Abe announced they would accelerate the process to bring the TPP into force. All the countries in the TPP, save for the U.S., have at least initially signed on the agreement at this point.
Canada's Liberal government signed the agreement in principle but has not brought it to Parliament for ratification.
A number of studies have suggested the deal would have a very limited economic impact on Canada, given that Canada already has trade deals with most of its largest trade partners in the pact. Other studies have suggested an outright negative impact from the deal, with the country losing jobs and seeing inequality rise.
But an internal study done for the Department of Finance concluded that it would be even worse for Canada if it stayed out of the deal, and lost out on trade opportunities.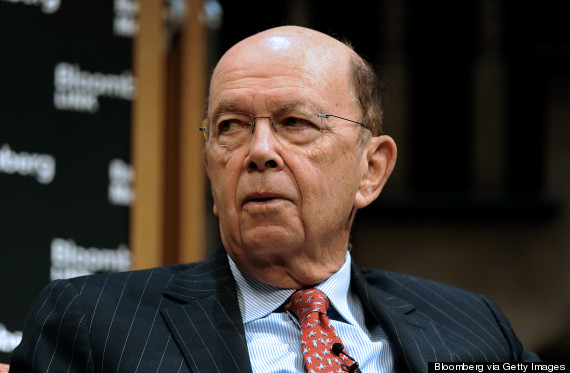 Wilbur Ross, Trump's pick for commerce secretary, at the Bloomberg Dealmaker Summit in New York, U.S., on Thursday, Oct. 25, 2012. Ross says renegotiating NAFTA will be an early priority for the Trump administration. (Photo: Peter Foley/Bloomberg via Getty Images)
The Canadian government is now bracing itself for a renegotiation of NAFTA to take place early in the new Trump administration.
Wilbur Ross, Trump's pick for commerce secretary, told a congressional confirmation hearing on Wednesday that tackling NAFTA is "logically the first thing for us to deal with" after Inauguration Day.
"We have to solidify the relationships in the best way we can in our territory before we go off to other jurisdictions," Ross said.
Canada's Liberal government offered to open NAFTA for renegotiation shortly after Trump's election in November.
Still, Trump's "America first" inauguration speech on Friday had some Canadian exporters on edge, particularly in light of recent talk about congressional Republicans instituting a border tax.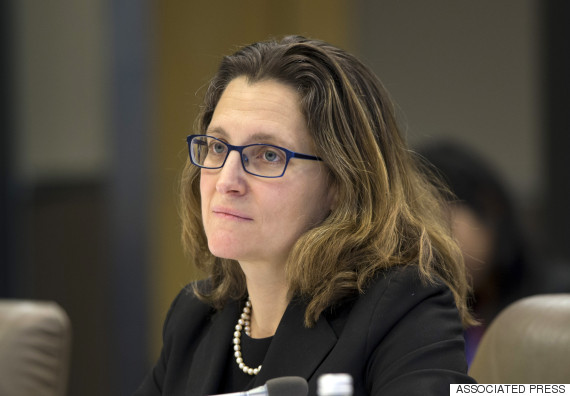 Chrystia Freeland, then international trade minister and now foreign minister, prior to the signing of the Trans Pacific Partnership Agreement in Auckland, New Zealand, in 2016. (Photo: David Rowland, AP/SNPA)
Canada's foreign minister, Chrystia Freeland, played her cards close to her chest following the speech.
She noted that the theme of middle-class jobs and prosperity in Trump's speech "is a message that will be very familiar to Canadians from our own prime minister."
"So I think making sure that our relationship, our conversations with this new administration are really focused on that shared project of middle-class jobs, growth and prosperity, I think is going to lay the foundation for continued Canada-U.S. collaboration," she said, as quoted at Global News.
Also on HuffPost