FREDERICTON — A photo of a boy looking exasperated while sitting behind the prime minister has been making the rounds on social media, even giving Justin Trudeau a laugh, but the boy's family wants to set the record straight about the circumstances.
Abdel Kader Al Shaikh was photographed covering his hands over his eyes with his head tilted towards the ceiling as he sat in the front row of Trudeau's town hall in Fredericton last week.
The Canadian Press photo struck a chord with social media users, with some interpreting the boy's expression as frustration with the prime minister.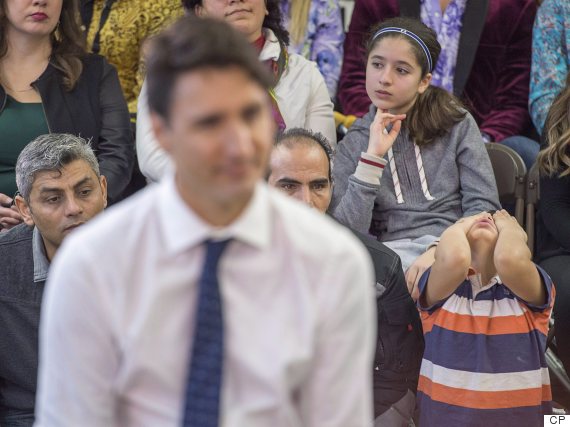 Abdel Kader Al Shaikh attends a town hall meeting with Justin Trudeau during a visit to the Cultural Centre in Fredericton, N.B. on Jan. 17, 2017. The boy, who was there with his family, was irritated by his noisy two-year-old brother. (Photo: Andrew Vaughan/The Canadian Press)
Trudeau had a more light-hearted take on the scene, joking that as a former teacher, he's used to speaking in front of an audience of squirming children.
"I haven't seen faces like these kids' since I taught math class,'' Trudeau wrote in a tweet that generated thousands of likes. "Thanks New Brunswick!''
I haven't seen faces like these kids' since I taught math class. Thanks New Brunswick! https://t.co/jS5ojwSCiM

— Justin Trudeau (@JustinTrudeau) January 17, 2017
While Trudeau's former students may have grimaced in math class, 10-year-old Abdel Kader was eager to hear what the prime minister had to say last Tuesday, his father said in an interview aided by an interpreter.
Hassan Al Shaikh said he and his wife, Radia, along with four of their seven children waited for two hours to see Trudeau, even letting some of the kids skip school so they could see their "hero'' in person. The family holds Trudeau in the highest esteem, Hassan Al Shaikh said, as the "only leader in the world'' who welcomed Syrian refugees with open arms.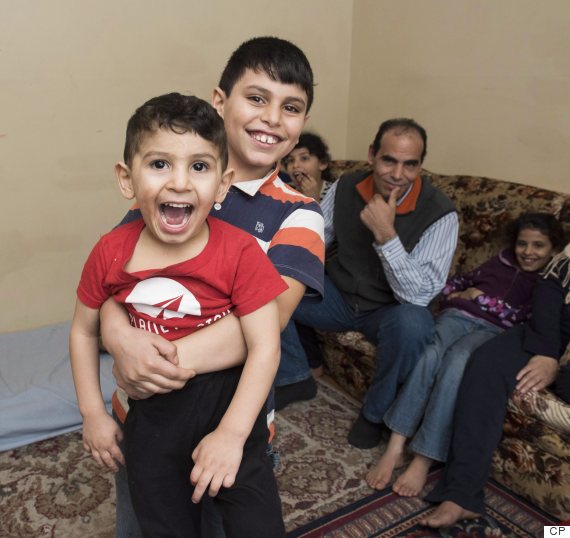 Abdel Al Shaikh, 10, holds his two-year-old brother Omar in their family's home in Fredericton, N.B. on January 21, 2017. (Photo: Stephen MacGillivray/The Canadian Press)
"(I'm) so grateful for all of the Canadian people ... who received (our family) with amazing hospitality,'' he said. "While other countries closed their borders ... Canada was the only country that opened the doors and opened the hearts for the Syrians.''
Abdel Kader watched intently as Trudeau took questions from the audience, but he kept being distracted by his two-year-old brother, Omar, who cried and made noise while the prime minister was speaking, according to the boys' father.
"Abdel Kader tried to make his brother be quiet. He was saying to him, 'Please listen, listen, listen,'' Hassan Al Shaikh said. "When he gave up, he put his hands on his head and said, 'Oh my god, I am here listen!'"
Hassan Al Shaikh said that he and Radia were horrified to learn that a photo of the sibling squabble had somehow made its way to the prime minister. The parents feared their son had offended Trudeau and that his gesture could even invite punishment for the whole family, based on their "bad memory'' of living under the Syrian government.
Family plans to name new baby after prime minister
Eventually, it was made clear that the prime minister was amused by the image, and Hassan Al Shaikh said he was heartened by Trudeau's "democratic reaction.''
The Al Shaikhs just passed their one-year anniversary in New Brunswick, and they're expecting an addition to their brood any day now.
At their children's request, they plan to name the boy "Justin Trudeau Al Shaikh."
Radia Al Shaikh said she hopes Trudeau will give them his blessing to welcome the baby into the family's new home with a fittingly Canadian name.
Also on HuffPost:

Justin Trudeau's Kids Through The Years