Foxconn, a major assembler of iPhones and other electronics, may invest $7 billion in a plant for manufacturing display panels that would create as many as 50,000 jobs in the U.S.
Foxconn CEO Terry Gou discussed the potential expansion Sunday during a company meeting in Taiwan, the company's home country. Several publications in Taiwan reported Gou's remarks.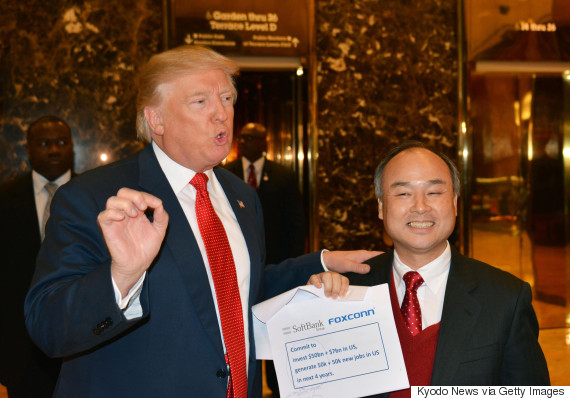 Donald Trump (left), then the president-elect of the U.S., and SoftBank Group Corp. CEO Masayoshi Son meet with reporters following their talks at Trump Tower in New York on Dec. 6, 2016. Son is a partner of Foxconn, the Taiwan-based company that assembles many iPhone parts. (Photo: Kyodo News via Getty Images)
It's the first time he has provided details about a possible U.S. expansion since one of Foxconn's partners, SoftBank CEO Masayoshi Son, revealed Foxconn was mulling a $7 billion investment after a December meeting with then President-elect Donald Trump.
If the plant is built, Gou said it would work with Foxconn's Sharp subsidiary. He touted Pennsylvania as leading candidate for the plant, but said Foxconn is in discussions with other states, too.
Also on HuffPost
Most Outrageous Facts About Foxconn iPad Factories