Jonathan Scott, one half of HGTV's "Property Brothers," is best-known for helping people build their dream homes, and he's also in favour of seeing women achieve their dreams
On Saturday, the Vancouver native took to Facebook to share a sweet message in support of the Women's March that took place across the globe the same day.
"They are our sisters, our mothers, our daughters, our partners and our friends," he wrote. "They are strong, intelligent, courageous women who deserve be be heard. A culture that respects & supports it's women is one destined for great things. #womensmarch"
But while Scott's kind message was met with some few kind responses, other users weren't too impressed with his support of the march.
"Not one of their rights is in jeopardy of being taken away," one woman wrote. "They are marching for no reason other than they don't like that Trump won. Well he did. Grow up and get over it feminists. Real women don't act like shrieking two year olds."
"So women worried about the fact they want to screw anything without protection which is inexpensive to be able to have an expensive abortion because babies are disposable will never put me on their side of this," said another.
Some even threatened to stop watching "Property Brothers" all together.
Fortunately, Scott's response to the negativity was one of love.
"Fortunately most of our fans are incredible, and they have insightful comments, and I love sharing their stories ... but we also have some people who are just cruel and angry, and no matter what, they just have something negative to say. This is not the place for that. Not to mention that we have a lot of kids who read these posts actively."
"There's a big difference between having a different opinion and always trying to pick a fight."
"We will never all agree on everything, but we should always be willing to look and see if someone's heart is in the right place," he shared. "And when I see this inspiring situation where strangers have come together all over the world to express their peaceful passions for justice, well that has resonated to areas on the planet where unfortunately people don't experience the same democratic freedoms that we have. But someday, I hope that they will."
Thankfully, this time around, the vast majority of comments were positive.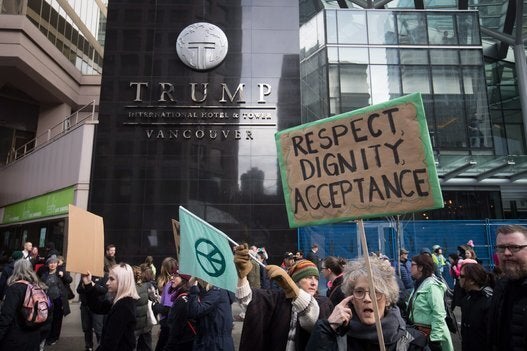 Women's March In Canada, January 2017