Nine years after Heath Ledger's death, his ex Michelle Williams is opening up about the heartbreak of having to move out of the home the two once shared.
"At that time, I was inconsolable because I felt, 'How will he be able to find us?'" she told WSJ Magazine for their February issue. "This is where we lived, and he won't know where we are. And now I can't believe I thought that. Maybe that's what's making me cry is I feel sad for the person who thought he won't be able to locate [us]."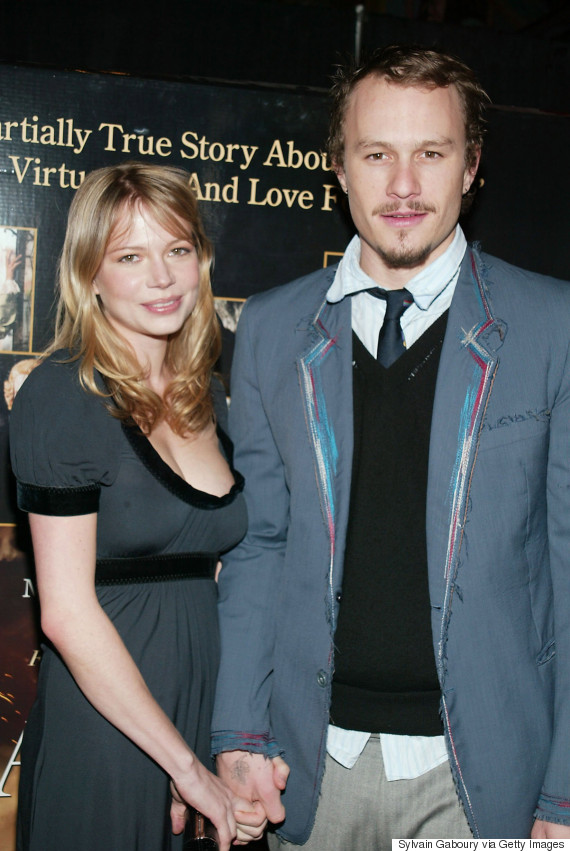 Michelle Williams and Heath Ledger attend a screening of the film "Casanova'" in New York City in 2005.
Ledger and Williams dated for three years after meeting on the set of "Brokeback Mountain." The two welcomed a daughter, Matilda, in 2005 and shared a six-bedroom home in Brooklyn, New York.
Unfortunately, things didn't work out for the couple and the two amicably split in September 2007, just four months before Ledger suddenly died of an accidental drug overdose in January 2008.
Williams and her then-two-year-old daughter were then forced to move out of Brooklyn because of the intense media craze following Ledger's death. "We left Brooklyn and lived in the country for six years because it was an intolerable state of existence," the actress told the New York Post last June.
Since losing Ledger, Williams has made parenting her priority, rather than her relationships.
"It's hard to romanticize romance when you're 36," the "Manchester By the Sea" star explained. "When you've been a parent for 11 years and you've done it alone, you don't have romantic ideals, because you have a practical understanding that you can do it by yourself. The romantic idea of meeting your person and having a storybook family life that looks like the model you grew up with – that doesn't really exist for me."
Heath Ledger's self portrait with Michelle Williams and daughter Matilda, who is now 11 years old. pic.twitter.com/HFbbz6jkSh

— WILL McCRABB (@mccrabb_will) November 26, 2016
This isn't the first time the actress has revealed her realistic attitude. Last year, the 36-year-old actress told Porter magazine that she's "a believer in not fighting circumstances, accepting where you are and where you've been."
Speaking about life as a single parent, Williams told WSJ Magazine, "Sometimes it can feel alienating; at school functions, there's only two of us single mothers. Everyone else has a partner, so we buddy up."
But despite this, Williams maintains that she and her 11-year-old daughter are doing just fine. "[We're] stuck -- in a good place," the actress said of her life. "There's a lot of constancy. [Matilda's] in such a good place that I don't worry about the stability of our unit when I have to go back to work."
Also on HuffPost