OTTAWA — Justin Trudeau should be standing up to Donald Trump, NDP Leader Tom Mulcair said Tuesday as he urged the prime minister to push back against the U.S. president's newly enshrined support for the Keystone XL pipeline.
Keystone XL is the perfect opportunity for Trudeau to show a little resistance to the infamously protectionist Trump, Mulcair said in advance of a strategy session with his fellow New Democrat caucus members.
Trump catapulted Keystone back into the headlines with the stroke of a pen Tuesday as he signed an executive order offering pre-emptive — and highly conditional — support for a pipeline rejected by the Obama administration over environmental concerns.
Moving ahead with it would be a "massive error" for Canada, said Mulcair, who pointed out the Liberal government has already given its conditional approval to the Kinder Morgan line in B.C. and Enbridge's Line 3 between Alberta and Manitoba.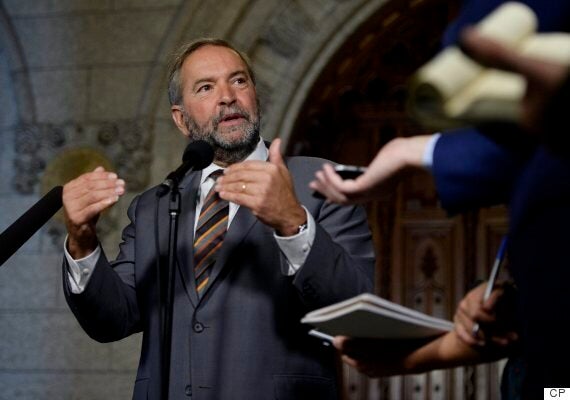 He urged Trudeau to explain how supporting the TransCanada project aligns with the Liberal government's climate change goals, as well as the prime minister's stated belief that pipelines approved by the Conservative government were not subjected to proper environmental review.
"Mr. Trudeau, who was in favour of Keystone XL — is he actually going to approve that?'' Mulcair said in an interview, pointing to Canada's international commitments on reducing greenhouse gas emissions.
Trump has in the past described climate change as a fraud invented by the Chinese, Mulcair noted.
"We can't let all of the bluster of Trump let us forget the essential aspect of the environment and greenhouse gas emissions and climate change."
"Mr. Trudeau, who was in favour of Keystone XL — is he actually going to approve that?''
It wasn't immediately clear whether Trudeau even has any ability at this stage to change the government's mind on Keystone XL, which won federal blessing from the previous Conservative government long before it got held up in the U.S.
In a statement, the federal Natural Resources Department trotted out some familiar boilerplate about Canada's "biggest trading partner and closest friend," noting that the federal government has already signed off on the project.
"All Canadian regulatory approvals are in place and it will now fall to TransCanada to determine its next steps."
It's unlikely Trudeau could change course on Keystone XL even if he wanted to, said Queen's University energy expert Warren Mabee.
"It really doesn't seem likely that our government ... could do what Mr. Mulcair is suggesting," Mabee said. Much of the northern stretch of the pipeline has already been built, he added.
Mulcair has called Trump a 'fascist'
Despite Mulcair's unapologetic assessments of Trump in the past — he has variously called him "bombastic" and a "fascist'' — the New Democrats found strange bedfellows with the U.S. administration when it pulled the plug on the Trans-Pacific Partnership.
"Frankly, I'm not sorry to see it go," Mulcair said.
None of that appears to have changed the NDP's overall opinion of the new U.S. president, particularly among some of the caucus members who are considered potential candidates in a leadership race that has yet to fully coalesce.
"Donald Trump is absolutely an extremist," said B.C. MP Peter Julian. "We need to speak out against the kind of sexist, racist, homophobic attitudes that he often seems to promote."
Indigenous rights compromised: MP
Manitoba MP Niki Ashton took issue with his decision to approve another contentious pipeline project Tuesday: the Dakota Access line, which has galvanized a national protest movement across the U.S. amid fears of the impact on the water supply for the nearby Standing Rock Sioux in North Dakota.
"Today we saw him take a stand ... against indigenous rights in support of Dakota Access and we are not even a week in," said Ashton, clad in a "Stand with Standing Rock" T-shirt.
The NDP caucus meetings continue through Thursday.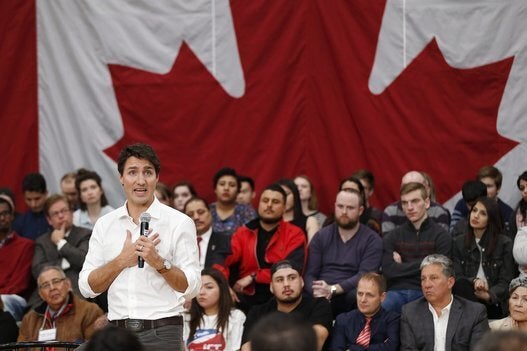 Trudeau's Cross-Country Tour 2017