Interim Conservative Leader Rona Ambrose says she doesn't buy that Prime Minister Justin Trudeau misspoke when he said Alberta's oilsands need to be phased out.
"I think that is Mr. Trudeau's ideology," Ambrose told reporters Wednesday in Quebec City at her caucus retreat. "I think he is anti-energy."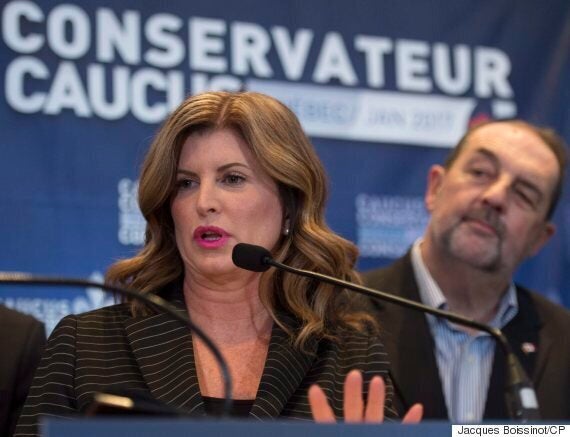 When asked if she thought the oilsands should be phased out, Ambrose said such a shift shouldn't be done until there's "a replacement that makes sense for our country.
"If we're moving towards another kind of energy then it has to be done in a way that is sustainable and affordable," Ambrose said.
Trudeau raised the ire of Alberta politicians and Tory leadership contenders when he told a town hall in Peterborough, Ont. earlier this month that Canada must transition away from burning fossil fuels.
"We can't shut down the oilsands tomorrow," Trudeau said at the time. "We need to phase them out. We need to manage the transition off of our dependence on fossil fuels. That is going to take time."
Trudeau addresses issue in heart of oil country
Trudeau addressed the controversy surrounding those remarks Tuesday with reporters covering his cabinet retreat in Calgary. The prime minister said he should have chosen different words.
"I misspoke. I said something the way I shouldn't have said it," Trudeau said.
But the prime minister did not shy away from his position that the Canada needs to break its dependency on fossil fuels in the long term. He insisted it's not a new message from him.
"I talk about making sure that we understand that the resources in the oilsands, you know, 100 years from now, we probably are not going to be using for our fuel and energy sources," he said, adding jet fuel could be the exception.
The Prime Minister's Office also made the case last week that Trudeau's words weren't so different from those of former Conservative prime minister Stephen Harper, who joined with other G7 leaders in 2015 to commit to the full phase out of fossil fuels by 2100.
Trudeau made reference to Harper's pledge Tuesday night when an angry Calgarian at a town hall accused him of having a different message about the oilsands when he's in western Canada than he does "down East."
"Even Stephen Harper recognized we have to get off fossil fuels eventually. We have to do that," Trudeau responded, sparking cheers. "We cannot do that right now."
"Even Stephen Harper recognized we have to get off fossil fuels eventually."

— Prime Minister Justin Trudeau
Again, Trudeau said every prime minister needs to get resources to market, including fossil fuel from the oilsands.
"I've also said that we need to do that in a responsible, sustainable way — that you cannot separate what's good for the environment and what's good for the economy."
With a file from Patrick Bellerose, The Canadian Press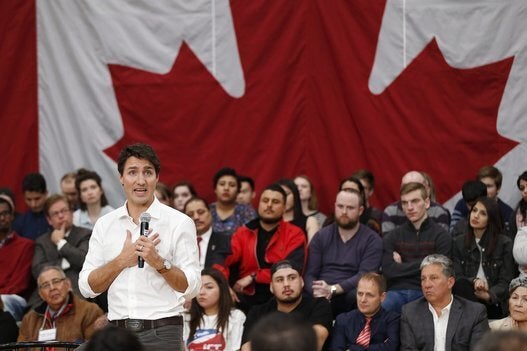 Trudeau's Cross-Country Tour 2017