The Federal Bureau of Prisons has moved the remaining inmates from a federal halfway house in Michigan after one whose prison sentence was commuted by President Barack Obama was fatally shot by two men wearing masks and carrying assault-style rifles.
Federal prisons spokeswoman Jill Tyson tells Mlive the housing of inmates at Bannum Place of Saginaw is temporarily suspended and all residents were moved elsewhere Tuesday.
State police say 31-year-old Damarlon Thomas was shot several times by one man as the other held some of the roughly two dozen people at the home at gunpoint.
"Once he located [Thomas], he executed him and then shot him several more times," Lt. David Kaiser told The Huffington Post.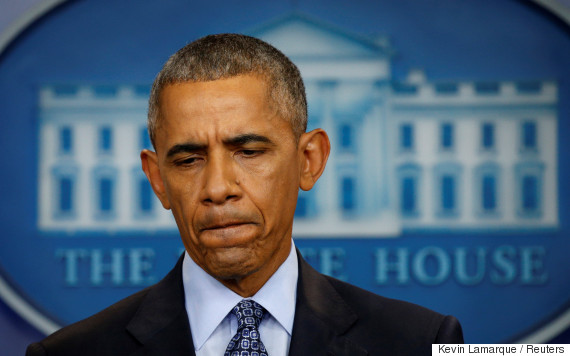 Former U.S. President Barack Obama commuted the sentences of a number of offenders in November of last year, including Damarlon Thomas, who was shot dead at a federal halfway house on Tuesday. (Photo: Kevin Lamarque/Reuters)
"We still don't have a motive for the shooting."
Tyson says Thomas, a former Saginaw gang member, arrived at Bannum Place on Dec. 13. She declined to comment on security measures there.
Thomas was sentenced to 19 years in prison in 2008 for dealing cocaine, but with the commutation his sentence was set to expire on March 22.
The Bureau of Prison contracts with Bannum Place to rehabilitate inmates nearing release.
With files from Emma Prestwich