This truly is the meaning of family.
When Celia and Geff Kinzel got married earlier this month surrounded by a small group of family and friends, one very important family member had to be part of the ceremony, Us Weekly reports.
Their two-year-old son Logan, who is currently being treated for brain cancer, didn't miss the opportunity to be with his parents on this big day.
The Ohio couple ended up exchanging vows at the chapel at the Nationwide Children's Hospital (where their son is being treated), and now a photo of them carrying their precious two-year-old in the hallway has gone viral.
"Sometimes when you can't come to the wedding, the wedding comes to you," the hospital wrote on their social media pages.
"We were worried that Logan would get sick during the ceremony. But it was the first day that he was full of energy, really happy, really talkative. He was ready to see people and be there," the 26-year-old bride told Us Weekly.
Online, people related to the photo with their own stories, and also sent the Kinzels their warm wishes.
"Somehow, this picture makes me feel like all the problems I think I have are completely moot. What a lovely, touching moment. The love of a parent is awesome! Thank you for accommodating this family!," one commenter wrote.
"That's what happened to us my mom had a stroke on my honeymoon and passed away. We went to see her on our wedding day," another one added.
According to Us, Logan was first diagnosed with stage four medulloblastoma last year when he was 17 months old.
In November 2016, doctors had noticed the cancer had returned. And although he currently lives in the Ohio hospital for treatment, his mother told the magazine he's full of joy.
"When he laughs, he'll throw his head back and it's so cute! Even when he's throwing a temper tantrum, he's still super cute."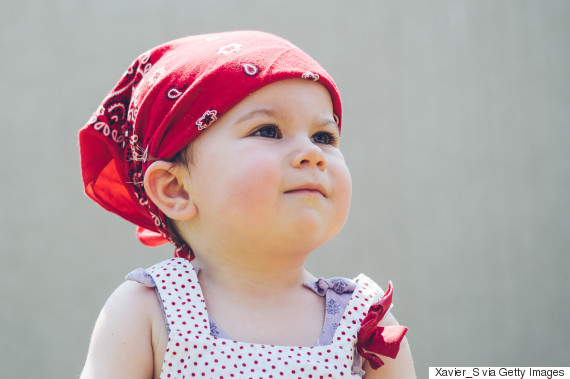 The Canadian Cancer Society notes childhood cancer is relatively uncommon, but it still stands as the most common disease-related cause of death.
Cancers in children are found in different organs of the body compared to adults, and it acts quite different as well.
In Canada, childhood cancer accounts for less than one per cent of all new cancer cases, the organization notes.
Also on HuffPost