An Ontario minor hockey executive has apologized for a slur aimed at Canadian women who travelled to Washington, D.C., over the weekend to join a massive march against U.S. President Donald Trump.
Windsor Minor Hockey Association president Dean Lapierre said Wednesday he "screwed up'' when he posted the comment on his personal Facebook page last week.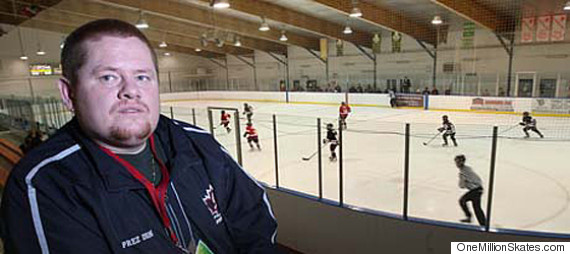 Dean Lapierre, a minor hockey executive in Windsor, Ont., is apologizing for calling women's rights demonstrators 'dumb bitches' on Facebook.
"I should have used better judgement,'' Lapierre told The Canadian Press.
Last week, Lapierre wrote on Facebook: "Any of those CANADIAN women who wanted to protest the President of the USA and got turned around. Good u dumb bitches. Worry about your own Country CANADA. And your protesting what?''
Lapierre said he's since deleted the post and is also taking down other comments on his personal page "that people might find offensive.''
Dean Lapierre of #Windsor, ON.
I can lightheartedly laugh at the fact he's a Leafs fan-but his words aren't funny

[Also it's "you're", bud] pic.twitter.com/uVK2YmpdBZ

— Christellar 📎 (@christellar) January 25, 2017
The Ontario Minor Hockey Association said it is investigating the incident.
"These comments are offensive and have no place in minor hockey,'' said Ian Taylor, executive director of the OMHA.
"We aim to teach our players the value of respect and acceptance of all members of our communities. Although this was posted on Dean's personal page, we believe he holds a prominent position and has a public profile within the community.''
"I should have used better judgement.''
— Dean Lapierre
Lapierre agreed and said he was frustrated that Canadian women would travel to another country to join a political rally.
"I just thought we can do more by protesting in our country,'' he said. "Just thought enough of the protest of Trump and let's see what we can do for our country.''
Hundreds of Canadian women from Toronto, Montreal, Ottawa and Windsor, Ont., took part Saturday in the protest dubbed "Women's March on Washington'' in support of women's rights. Many others made their way to the U.S. capital by car or plane.
Anti-Trump protests also took place in several Canadian cities and small communities.
Also on HuffPost
Women's March In Canada, January 2017