Baby boxes are all the rage among expectant parents, and the exploding success of the infant starter kits in Alberta shows no signs of slowing.
The Baby Box Company has been providing new moms with the boxes since November, filled with essential baby items such as diapers, wipes and teethers.
In that time, they have distributed an estimated 7,000 boxes, reports CBC News. (And that's only to people willing to pay. The company will begin distributing free boxes nationwide this March.)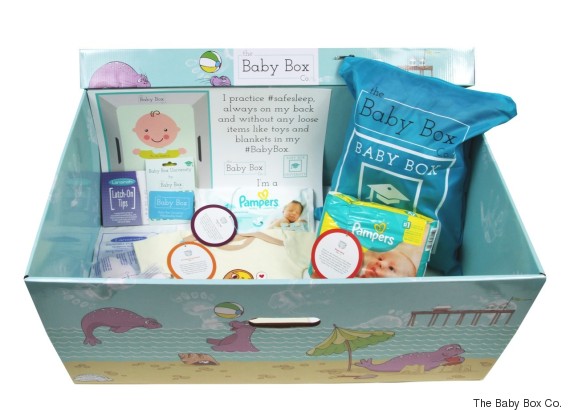 Baby boxes provide a safe sleeping space for newborns, as well as infant essentials. (Photo: The Baby Box Co.)
But while it can be fun and exciting to receive a box full of freebies, a Calgary researcher says the boxes shouldn't be mistaken for the only support a new parent needs.
Dr. Karen Benzies, a professor with University of Calgary, has been leading research examining the best way to assist vulnerable first-time parents who are learning to care for a tiny newborn.
As part of her "Welcome to Parenthood Alberta" study, each participating family receives one of The Baby Box Company's kits. When empty, the box serves as a safe sleeping space for a baby.
The boxes are modeled after similar boxes that have been used in Finland for more than 75 years.
Every expectant mother in the Scandinavian country is gifted with the box, so every baby, no matter their background, gets an equal start in life.
"Obviously it's worked. (Finland) had one of the highest infant mortality rates in the world, fast forward nearly 80 years and they have one of the lowest," Baby Box Company's Canadian program director Theresa Moore told the Calgary Eyeopener.
The popularity of the boxes is undeniable, says Benzies.
"People are attracted to the box because it's tangible. And it's got free stuff. And everyone likes free stuff."
But, she says, baby boxes only give a perception of support — in reality, new parents need a larger system that includes the help of people close to them.
Benzies' study, which wraps up in June, educates first-time parents about the importance of nurturing in a baby's early days. Lots of reassurance and comfort are crucial to an infant's early development.
"They learn to trust, they learn to know their needs are going to be met," Benzies says. "If they know their survival needs are being met, they are then open to interact with their worlds."
"If they know their survival needs are being met, they are then open to interact with their worlds."
Additionally, the study asks new moms to choose a mentor — someone from their personal network to act as a contact person during the weeks postpartum.
Mentors can be a friend, family member, neighbour or co-worker, says Benzies. Mentors are maintain contact with mom and baby once a week until the baby is six weeks old, then once every two weeks until the baby is six months old. They also keep a journal documenting their interactions with mom and baby.
Mentors ask questions like "how are you feeling?" and "how can I help you?" — important to gauging how a new mom is coping and identifying early signs of postpartum depression, says Benzies.
Mentors are told to ask questions like "how are you feeling?"
Kensee Mark, from Lloydminster, Alta., took advantage of the study, asking her sister to be her mentor.
Mark told Global News the combination of support from both the mentor and the baby box made her feel like her son "got a really good start. He got everything he needed."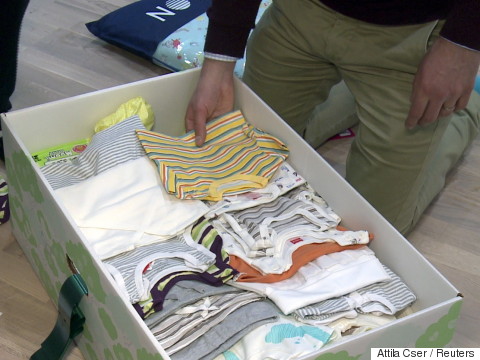 The contents of the Finnish baby box are seen in this still image taken from video in Espoo, April 29, 2015. Finland has sent the boxes — including baby clothes, a sleeping bag and nipple cream among other items — to parents-to-be in Finland since the 1930s when infant mortality was high. (Photo: Attila Cser/Reuters)
While the outcomes have yet to be analyzed, Benzies says Mark's feedback is consistent what she's been hearing from many of the study's 1,500 participants.
"The anecdotes we're hearing back suggest this early support is a very positive enhancement (to the lives of new parents.)"
Also on HuffPost