A Texas teacher's aide has been fired after he allegedly faked having cancer to cover for an appointment in court.
Kevin MaBone surrendered to U.S. marshals on Wednesday, according to WFAA.
The 56-year-old was canned from Wilkinson Middle School after district officials say he lied about being ill so he could drive to a sentencing hearing in West Virginia.
He could also face theft charges for accepting more than US$10,000 in donations and a car from the school community, according to CBS 11 Dallas.
Students and staff raised more than US$11,000 on GoFundMe after MaBone told the principal in December he had prostate cancer, according to WFAA. A local paint and body shop even donated a 2005 Mercury Grand Marquis that he received on Friday.
A magic moment in Mesquite ISD ... Cancer-stricken staffer Kevin MaBone receives his donated 2005 Grand Marquis. pic.twitter.com/CBrUcIlFQP

— RayDMN (@RayLeszcynski) January 20, 2017
He had said that he planned to take a few days off for surgery this week, but then he called Principal Leslie Feinglas on Monday and said the cancer was gone, she told WFAA.
"That was a major red flag," she said.
She told the Dallas Morning News that he still asked for the time off, saying he needed a growth removed. But a Google search turned up his conviction.
He pleaded guilty back in October 2016 to misappropriating nearly US$6,700 in government funds when he worked at Job Corps Centers in Charleston, W.Va and Miami, Fla.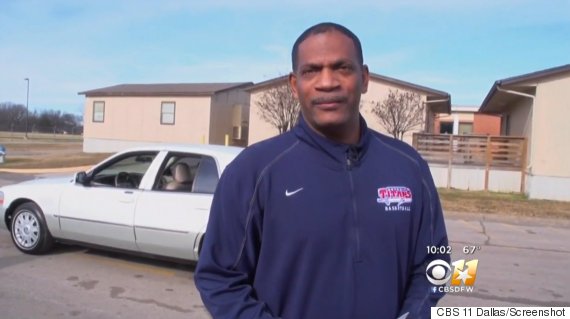 Kevin MaBone on Friday, the day Wilkinson Middle School presented him with a car. (Photo: CBS 11 Dallas/Screenshot)
He was free on bond until his scheduled sentencing on Tuesday, but that date has been moved to Feb. 13, according to the Dallas Morning News.
"He had us all duped," district communications director Laura Jobe told the newspaper.
MaBone had started working at the school last August, but his record was clean.
The GoFundMe money will be returned to donors, according to the Morning News.
But students who chipped in feel betrayed.
"He had us all duped."
"It just broke my heart. I didn't know he was going to do us like that," Korienna Hilary told CBS 11 Dallas.
Assistant Principal Jessica Eaton said that MaBone worked 15 to 16 hour days without being asked, and everyone loved him.
"I don't think you can fake loving kids. And he loved our kids," fellow Assistant Principal Molly Purl said.
Follow The Huffington Post Canada on Facebook, Twitter, and Instagram.
Also on HuffPost
Ridiculous Things Parents Have Said To Teachers