The Donald Trump administration made its hardline immigration stance abundantly clear on Wednesday, after the president signed executive action orders calling for stricter enforcement of the country's laws.
President Trump's latest orders, entitled "Enhancing Public Safety in the Interior of the United States," focus on undocumented immigrants.
The document claims those who enter the U.S. illegally "present a significant threat to national security and public safety," particularly those who commit crimes after the enter the States.
The new measures target at sanctuary cities, such as Los Angeles, New York City, or Miami, which have legislation in place to protect undocumented immigrants.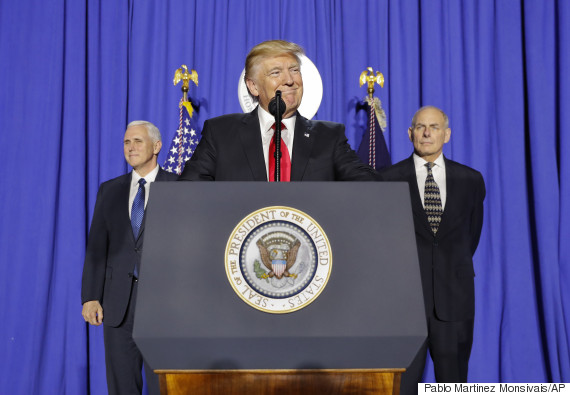 President Donald Trump, accompanied by Vice President Mike Pence, left, and Homeland Security Secretary John F. Kelly, speaks at the Homeland Security Department in Washington on Wednesday. (Photo: Pablo Martinez Monsivais/AP via The Canadian Press)
Since public money isn't typically used by sanctuary cities to enforce federal immigration laws, one of Trump's new measures aims to essentially shame them into doing so.
The Secretary of Homeland Security has announced it will publish a weekly list of crimes committed by "illegal aliens."
The executive action orders also threaten to cut off federal funding for sanctuary cities that protect undocumented immigrants.
But as New York State Attorney General Eric Schneiderman pointed out, this violates the U.S. constitution because these cities are not breaking any laws.
.@POTUS lacks the constitutional authority to cut funding for #SanctuaryCities simply because they've lawfully acted to protect immigrants. pic.twitter.com/jcpsIvYKeU

— Eric Schneiderman (@AGSchneiderman) January 25, 2017
The executive action also calls for prioritizing the removal of undocumented immigrants who have committed crimes, but goes further to include those who have "committed acts that constitute a chargeable criminal offense"— essentially, those who have been accused of a crime but yet to be formally charged.
Also on HuffPost
Donald Trump Inauguration