Prime Minister Justin Trudeau's concession that he is not very familiar with a bail reform bill that his government won't support has raised the ire of Conservatives and a widow who believes it will save lives.
St. Alberta-Edmonton Tory MP Michael Cooper and Sen. Bob Runciman released a statement Thursday blasting Trudeau's "ignorance" about Bill S-217 — also known as Wynn's Law.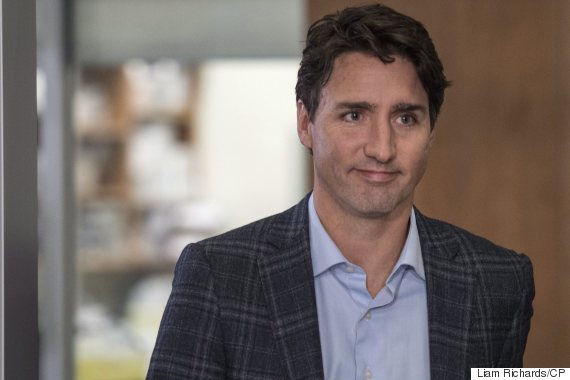 Prime Minister Justin Trudeau is shown at the University of Saskatchewan campus in Saskatoon on Jan. 25, 2017. (Photo: Liam Richards/CP)
"It is disappointing that Prime Minister Trudeau couldn't be bothered to learn the facts about Wynn's Law before his Government vowed to defeat it," Cooper said in the release.
"That the Prime Minister was completely unaware of a Bill that has presumably been vetted by his own cabinet raises questions about what other decisions the Prime Minister is in the dark about."
Trudeau was pressed about Wynn's Law at a town hall in Saskatoon on Wednesday. The bill is named in honour of slain Alberta RCMP Const. David Wynn, who was shot and killed in 2015 by a career criminal named Shawn Rehn.
Rehn was out on bail at the time of the murder, despite a lengthy rap sheet and numerous outstanding charges.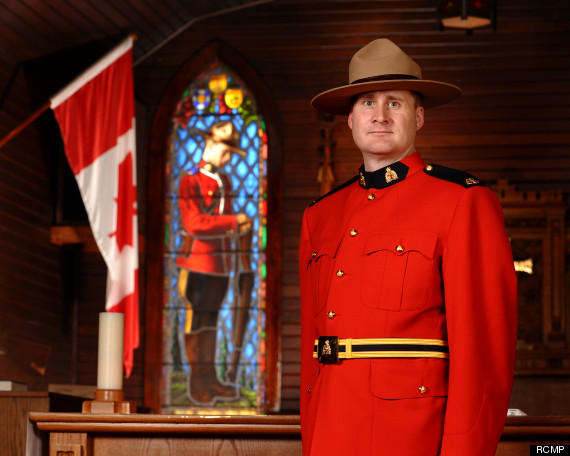 Const. David Wynn was killed in 2015. (Photo: RCMP)
Runciman introduced the bill in the Senate, where it easily passed last year, and Cooper has sponsored it in the House of Commons. The bill would demand that an accused's criminal history and outstanding charges are disclosed in courts before bail decisions are made.
A woman at the town hall asked Trudeau why Justice Minister Jody Wilson-Raybould disagrees that judges considering bail must always be presented with such information.
The prime minister admitted he had just been thrown a curveball.
"The fact is, you have me at a bit of a disadvantage," he answered. "You obviously know a lot more details about this particular piece of legislation than I do." (Watch his full answer in the video above.)
PM will ask minister to explain 'rationale'
Trudeau said his "excellent" justice minister and cabinet members understand the importance of keeping Canadians safe, particularly those in emergency services, while upholding the Charter of Rights and Freedoms.
"And that's something that we always have to work in balancing," Trudeau said, adding the task can sometimes seem counter-intuitive.
The prime minister pointed to his position in the last federal election that dual citizens convicted of terrorism should not be stripped of their citizenship — something others might see as a black-and-white issue. Taking such a step, he said, creates two different classes of citizenship.
"That's an example of something that seems to be obvious but is actually more complex," he said.
Trudeau told the woman he would take her question back to Wilson-Raybould and ask her to explain "more clearly to you and Canadians" the rationale behind their decision.
"This is not about choosing sides, it's about saving lives and making our country a safer place to live."
— Shelly MacInnis-Wynn
Cooper said in his statement that it was "inexcusable" the prime minister wasn't up to speed on something that has been before Parliament for a year.
Runciman said that the government's objections to the bill won't stand up to scrutiny at committee.
The release also included a statement from Shelly MacInnis-Wynn, widow of the murdered officer.
"This law affects the whole country," she said in the release. "This is not about choosing sides, it's about saving lives and making our country a safer place to live."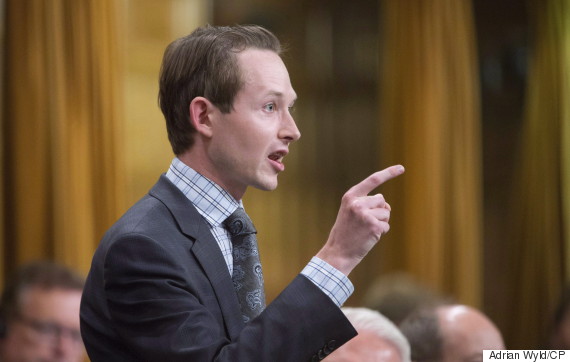 Conservative MP Michael Cooper speaks in the House of Commons on Oct. 6, 2016. (Photo: Adrian Wyld/CP)
Cooper introduced S-217 into the House last October. He said then that the prior criminal convictions and outstanding charges of Wynn's killer were not "brought to the attention of the justice of the peace at the bail application hearing."
Cooper called it a "glaring loophole" in the law.
"There is no doubt in my mind that had Wynn's Law been the law, Constable Wynn's killer would have remained behind bars where he belonged, and Constable Wynn would be alive today," Cooper said.
During debate in November, Sean Casey, parliamentary secretary to Wilson-Raybould, said Liberals would not support the bill, fearing it would "unnecessarily complicate and lengthen the bail process" and remove discretion from the Crown.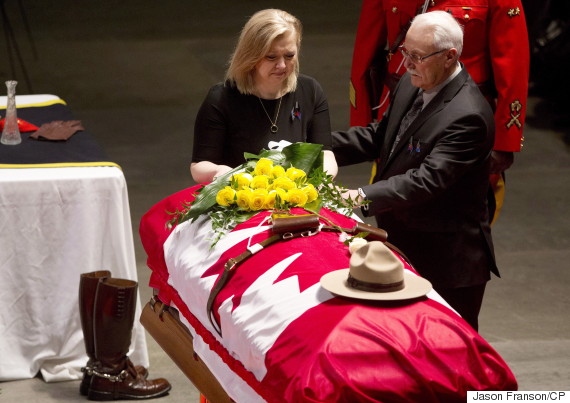 Shelly MacInnis-Wynn and a family member lay flowers on the casket of slain RCMP Const. David Wynn, during his funeral on Jan. 26, 2015. (Jason Franson/CP)
Days later, Calgary Confederation MP Leb Webber stood in the House to say the Liberals' refusal to support S-217 made him sick.
"I have no hesitation in saying that the next time this tragedy happens, the Liberal government will have blood on its hands," Webber said in a fiery member's statement before question period.
Cooper, who has developed a reputation for raising his voice in question period, challenged Wilson-Raybould on the matter last month.
In one memorable exchange, he asked the justice minister to tell MacInnis-Wynn why individuals should be let out on bail without the disclosure of their criminal history.
"Why is the minister opposed to closing the loophole that cost Constable Wynn his life?" Cooper bellowed.
Wilson-Raybould said Liberals are in the midst of a comprehensive criminal justice review with provinces and territories.
"The measures that are articulated in this bill are measures that are in place at this time," she said.
Trudeau, who typically skips question periods on Mondays, was not in the House to witness the exchange. He was instead at a coding workshop in Ottawa with high school students at that time.
Trudeau also wasn't in question period exactly one week later when Cooper challenged Wilson-Raybould's position that Wynn's law wasn't needed.
Four seconds
MacInnis-Wynn also testified before a Senate committee last June in support of the bill.
She asked those in attendance to close their eyes for four seconds because that was how long it took for her husband to be taken away from her and their three sons.
CBC News has video of her emotional testimony:
With files from The Canadian Press
Also on HuffPost