Chinese New Year is arguably one of the best holidays of the year. After all, it's when red envelopes containing money are exchanged between family and friends to send them good luck. In Cantonese, these red packets are called lai see, and in Mandarin, they're called hongbao.
There are a number of rules around who you should give a red packet to, so to make your life easier, Hong Kong-based lifestyle site Molala created this hilarious and handy chart.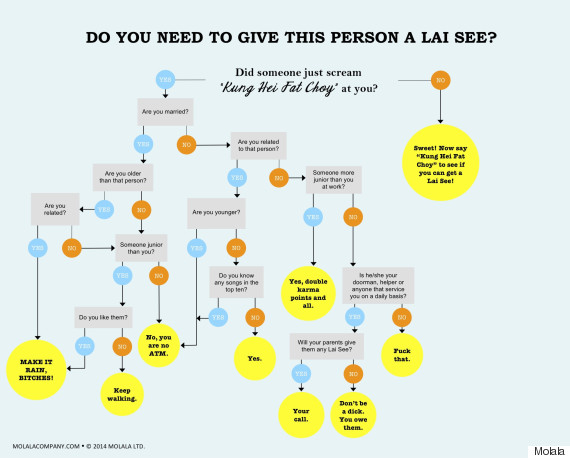 Click here for a larger version.
Naturally, one of the first questions in the infographic is: Are you married? This is because single folk are generally not required to give red packets to family and peers. However, married couples most certainly are, but only under certain circumstances.
According to the chart, if you're married, older than the other person and are related, you better "make it rain, bitches!"
And if you're not married, not related and it's neither someone more junior than you at work nor someone that services you on a daily basis, then "fuck that."
Molala originally created the hilarious infographic in 2014, but it's continuously made the rounds on the Internet every year around Chinese New Year.

In a previous Reddit thread where the chart was posted, one user simplified the rules around giving lai see.
"General rule: You don't have to give out lai see if you are unmarried," user 'iamgarron' wrote. "Those who do are usually around 40+ years old."
"You give to everyone younger than you when they give you a CNY blessing," the Redditor continued. "You give to people who work for you on a near everyday basis (building security guards, domestic helpers, etc) - you give to people who are in a junior position at work (though only usually if you are already in a senior position - entry level people don't give to interns etc) - You give to younger family members."
Once people get the rules down, their next question is usually, how much money do I give?
According to China Highlights, the amount of money depends on who you're giving the red packet to and can range from $5 to $300. Children of acquaintances are given between $5 to $10, for instance, while close friends and relatives' children are given between $10 to $30.
These are general rules, however, since the amount of money in the envelopes also depends on your own income. But when in doubt, just remember two things: don't give coins and don't give any amounts with the number four. This is because the word "four" sounds similar to "death" in Cantonese and is considered bad luck.
Gong Hey Fat Choy, everyone!
Also on HuffPost
Horoscope For The Year Of The Fire Rooster