FREDERICTON — New Brunswick's premier says two people died and two more were injured from carbon monoxide poisoning during the ice storm that has wreaked havoc in New Brunswick.
The province was rushing more resources to northern areas, as recovery efforts continue for small communities where power has been out since Wednesday's ice storm.
Premier Brian Gallant told a news conference in Caraquet that "it is with deep sadness," that he's learned the two deaths are related to the potentially lethal gas that can be emitted when furnaces are damaged or vents blocked.
"The most important thing at this time is the safety of our residents as we work to recover from this storm. That is why we are devastated to have learned of these events," said Gallant, who cancelled plans to attend a summit of Atlantic premiers and key federal ministers in Wolfville, N.S., Friday.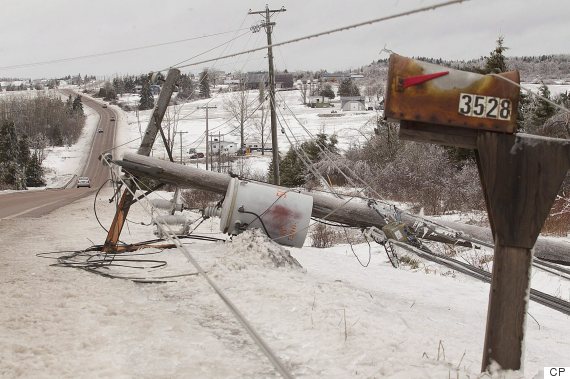 A hydro pole lays beside Route 126 just outside of Moncton, N.B. on Thursday. (Photo: Ron Ward/The Canadian Press)
The premier said he is also consulting with the federal government on whether the Canadian Armed Forces can help in the recovery.
"We will exhaust all options to add support for our fellow New Brunswickers who are still without power," he said.
As of 5 p.m. local time on Friday, there were still tens of thousands of customers without power throughout northeastern New Brunswick, and several municipalities had declared states of emergency.
The build-up of ice on trees, poles and lines was up to two inches in places, creating challenges for workers with NB Power and other utilities working feverishly as temperatures fell. New outages continue to be reported.
"We will exhaust all options to add support for our fellow New Brunswickers who are still without power."
Gallant said during his visit to Caraquet that storm recovery efforts would be intensified in the regions of the Acadian Peninsula, Miramichi and Kent County.
He said the government plans to open additional emergency shelters, bring in first responders and assign provincial employees from other areas to offer support to residents without power.
A provincial news release says an estimated 50 ground search and rescue teams, local fire fighters, peace officers and public safety officials are going door to door to check on the welfare of residents, and more resources will be added over the weekend.
A spokesman for the province's Emergency Measures Organization said no further details were available on whether the deaths occurred in separate homes, referring questions to the RCMP, which did not return calls.
Also on HuffPost
Storm Imogen Sweeps South Of England