The U.S. may have shut its doors to travellers and refugees from seven Muslim-majority countries, but many Canadians want those stranded to know they are welcome.
Karim Kanji, a Toronto resident and the child of Ugandan refugees, took to Twitter to offer up his home to stranded travellers.
Others were quick to chime in with offers to help.
Canada's Immigration Minister Ahmed Hussen said on Sunday that no travellers were stranded in Canadian airports, but some posted offers anyway, just in case. A group of Toronto university students set up a Facebook group, dedicated to providing accommodations for those that might need it in future.
And a Canadian immigration lawyer offered to help anyone affected by the ban who wants to come to Canada.
Canadian dual citizens and permanent residents are exempt from the ban. The government has offered temporary residency to anyone in Canada impacted by Trump's order, an offer which premiers, mayors and other politicians echoed.
Unfortunately, for those refugees and travellers turned away at the U.S. border, it's not so easy as simply coming to Canada.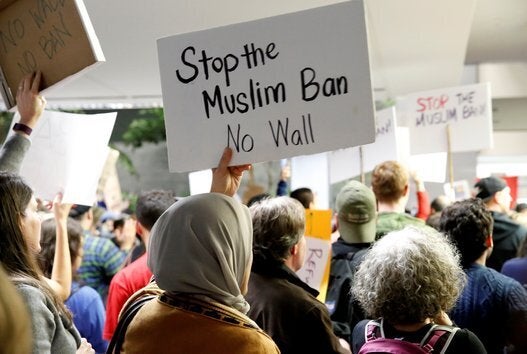 Trump Immigration Ban Sparks Protests