Mahershala Ali took the opportunity to use the time during his acceptance speech at Sunday's 2017 SAG Awards to speak out against President Trump's immigration ban.
During the speech, the actor, who picked up the award for Best Supporting Actor for his role in "Moonlight," talked about his conversion to Islam and how he and his mother, despite their different faiths, were able to put aside their differences, echoing the sentiment by many Americans who are protesting Trump's decision to ban immigrants from seven Muslim-majority countries.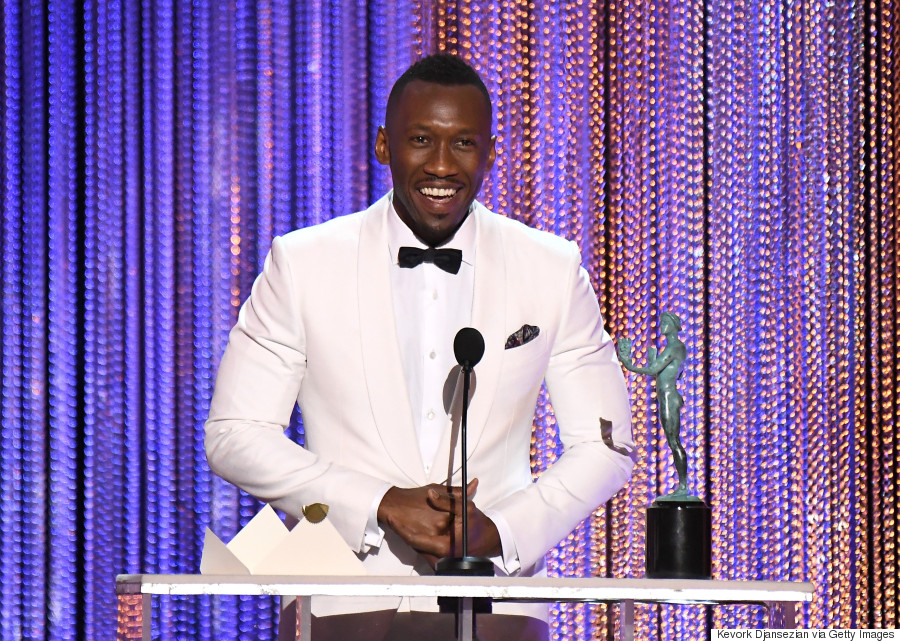 "What I think I learned from working on 'Moonlight' is you see what happens when you persecute people," Ali said. "They fold into themselves. What I was so thankful about in having the opportunity to play Juan was playing a gentleman who saw a young man folding into himself as a result of the persecution of his community, taking that opportunity to uplift him, and tell him that he mattered and that he was okay and accept him. And I hope that we do a better job of that."
"My mother is an ordained minister. I'm a Muslim," Ali continued. "She didn't do backflips when I called her and told her I converted 17 years ago, but we put things to the side and I was able to see her. She is able to see me. We love each other. The love has grown, and that stuff's minutiae. It's not that important."
Ali, who picked up a Golden Globe last month for his role as a drug dealer who befriends a young boy in the coming-of-age film, beat out fellow nominees Jeff Bridges for "Hell or High Water," Hugh Grant for "Florence Foster Jenkins," Lucas Hedges for "Manchester by the Sea" and Dev Patel for "Lion."
Ali also condemned the racism and xenophobia of Trump and his supporters.
"When we get caught up in the minutiae and the details that make us all different, I think there's two ways of seeing that. There's the opportunity to see the texture of that person, the characteristics that make them unique, and then there's an opportunity to go to war about it and say that this person is different from me, I don't like you, let's battle."
The 42-year-old "Luke Cage" star's speech came just a couple days after Trump's executive order and travel ban, wherein citizens from Iran, Iraq, Syria, Libya, Somalia, Sudan and Yemen are not allowed to enter the U.S. for the next 90 days and refugee admissions to the States have been suspended for 120 days.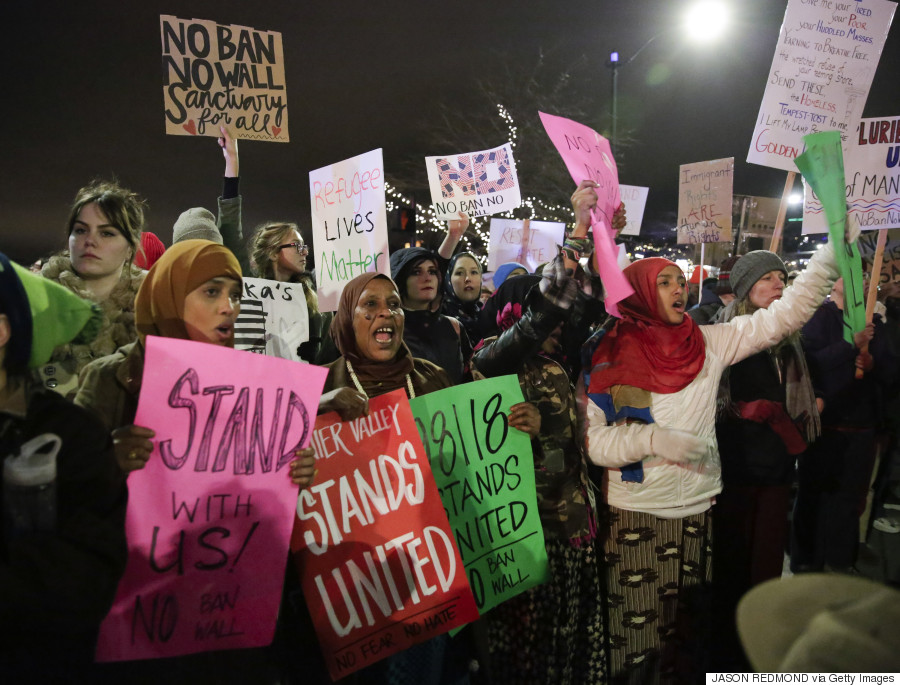 People march in support of immigrants and refugees in Seattle, Washington on Jan. 29, 2017. (JASON REDMOND/AFP/Getty Images)
The protests against the ban prompted Trump to defend the order, issuing a statement that also condemned the media's coverage of the ban:
"America is a proud nation of immigrants and we will continue to show compassion to those fleeing oppression, but we will do so while protecting our own citizens and border. America has always been the land of the free and home of the brave. We will keep it free and keep it safe, as the media knows, but refuses to say... To be clear, this is not a Muslim ban, as the media is falsely reporting."
Also on HuffPost
Trump Immigration Ban Sparks Protests