UPDATE - Jan. 31, 2017: Provincial police are now treating the attack as an act of terrorism. RCMP told CBC News that Alexandre Bissonnette could face terrorism-related charges, pending its investigation.
While Sunday's shooting at a Quebec City mosque was condemned by the prime minister as a "terrorist attack," police are still working to confirm a motive.
Six people are dead and 19 injured after gunfire erupted at the Islamic Cultural Centre as evening prayers were ending.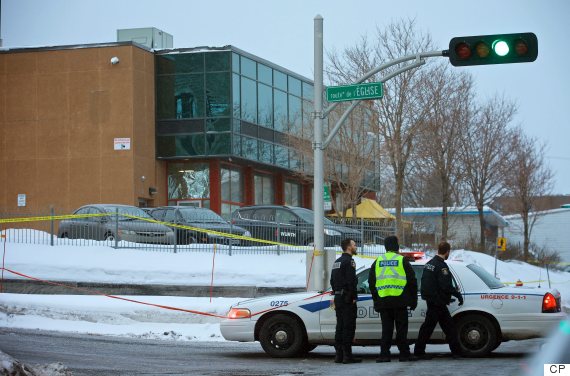 Municipal police patrol the scene at a Quebec City mosque on Jan 30. (Photo: Andre Pichette/EPA via CP)
One suspect is in custody, while another man who was arrested is now considered a witness.
The last time terrorism-related acts caused such casualties on this scale was the era of the Front de libération du Québec, an extremist separatist group. It carried out dozens of attacks from 1963 to 1970, resulting in eight deaths, including Quebec deputy premier and cabinet minister Pierre Laporte.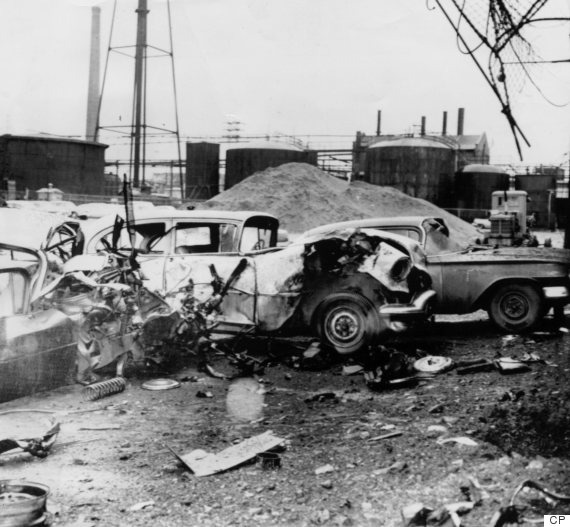 A bomb exploded under the engine of the car on the left in a Montreal dairy parking lot, destroying four cars and shattering windows, power and telephone lines in a nearby military armory in Montreal on May 20, 1963. It was believed to be the work of the Front de liberation du Québec. (Photo: The Canadian Press/Montreal Gazette)
The FLQ's founders were inspired by other revolutionary movements in the world at the time. The group followed a Marxist-Leninist philosophy and believed in overthrowing the Quebec government as well as rebelling against English imperialism.
Its activities culminated in the October Crisis of 1970, when Laporte and British trade commissioner James Cross were kidnapped.
The hostage-takings led Pierre Trudeau's government to invoke the War Measures Act, which allowed it to limit civil liberties.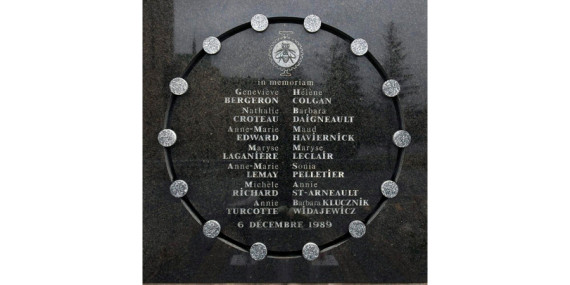 A memorial is inscribed with the names of those killed in Montreal.
Many people consider the 1989 mass shooting at Montreal's École Polytechnique as a terrorist attack. Marc Lépine killed 14 women in an anti-feminist rampage. It falls into a grey area because until after 9/11, there was no criminal definition of terrorism in Canada.
Read more: What Makes An Attacker A Terrorist In Canada?
The worst terrorist attack in Canadian history happened in Irish airspace when a bomb exploded on an Air India passenger jet in 1985. In total, 329 people — 268 of them Canadian citizens — were killed when the airliner crashed into the Atlantic Ocean.
The flight originated in Vancouver, where Sikh militants planted a bomb.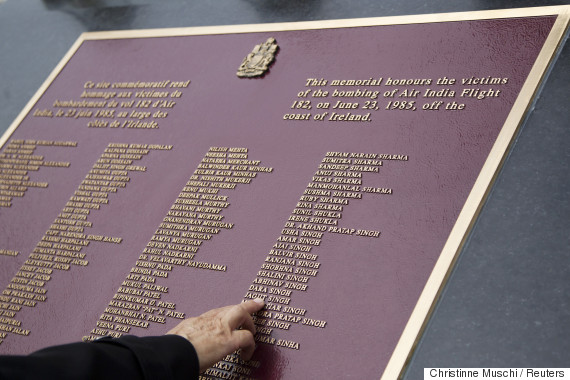 A relative traces the name of a family member and victim of the 1985 Air India bombing after the unveiling ceremony of a memorial in Montreal in 2011. (Photo: Christinne Muschi/Reuters)
Three people died in 1984 after a bomb exploded in a locker in Montreal's main train station. Thomas Bernard Brigham, an American war veteran, was convicted of planting it.
More recently, two Canadian Forces members were killed in separate, unrelated terrorist attacks in 2014.
On Oct. 20 that year, Warrant Officer Patrice Vincent died after Martin Couture-Rouleau rammed him with his car in Saint-Jean-sur-Richelieu, Que. Another soldier was injured. Police later shot and killed the suspect.
Two days later, Michael Zehaf-Bibeau shot and killed Cpl. Nathan Cirillo while the soldier was on sentry duty at the the National War Memorial in Ottawa. The gunman then stormed into the Parliament building before being killed by authorities.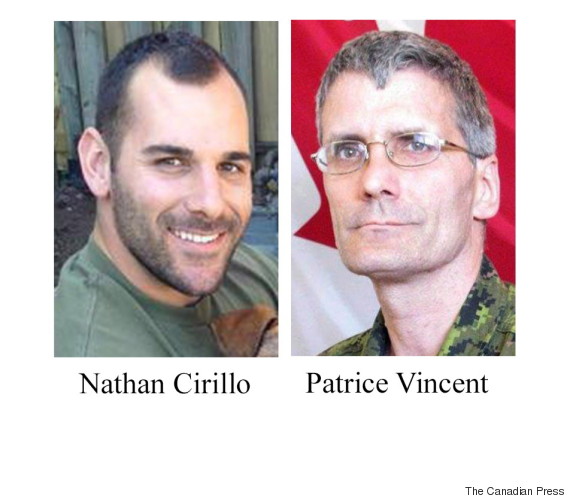 Cpl. Nathan Cirillo and Warrant Officer Patrice Vincent were both killed in terrorist attacks in 2014. (Photo: Canadian Press)
There have also other attempts to commit terrorist acts in Canada, including an al-Qaeda-inspired plot in 2006 to attack several targets in Toronto and southern Ontario. Eighteen people were arrested in connection with that plot.
Last summer, terrorist sympathizer Aaron Driver was fatally shot by RCMP in Ontario after he made a video suggesting he planned to detonate a homemade bomb in an urban centre during rush hour.
In 1966, a bomb exploded in a washroom on Parliament Hill, killing the would-be bomber, Paul Chartier, according to CBC News. Chartier had planned to throw the bomb on the House of Commons floor.
Also on HuffPost