Awards season is just getting started in Hollywood, and it looks like many celebs aren't backing down when it comes to sharing their raw thoughts on the current political situation in the U.S.
The 46-year-old began her speech by showing gratitude to the real life women the cast portrayed — mathematicians Katherine Johnson, Mary Jackson and Dorothy Vaughan — by speaking on the importance of their legacies, which was met with striking applause.
"The shoulders of the women we stand on are three American heroes," she said. "Katherine Johnson, Dorothy Vaughan, Mary Jackson. Without them, we would not know how to reach the stars."
"These women did not complain about the problems, their circumstances, the issues — we know what was going on in that era," she continued. "They focused on solutions. Therefore, these brave women helped put men into space."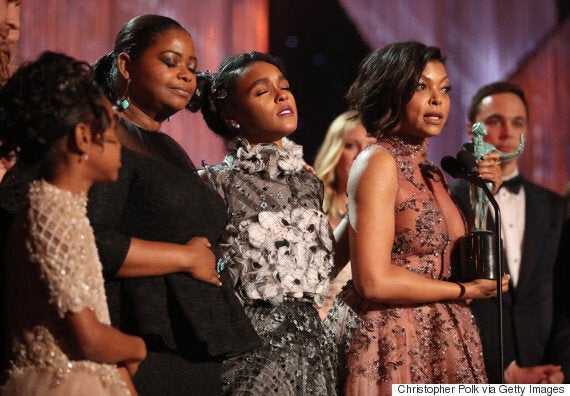 "This story is of unity, this story is what happens when we put our differences aside, and we come together as a human race. We win, love wins, every time."
Her impassioned words left both her costars and audiences everywhere in tears.
Watch her full speech below:
But Henson wasn't alone when it came to speaking candidly about the Trump administration at the show.
"Stranger Things" actor David Harbour also made a very bold statement of resistance on stage, as he and the cast of the show accepted the award for Outstanding Performance by an Ensemble in a Drama Series.
"We will shelter freaks and outcasts — those who have no homes," he exclaimed. "We will get past the lies, we will hunt monsters. And when we are lost amidst the hypocrisy and the casual violence of certain individuals and institutions we will, as per chief Jim Hopper, punch some people in the face when they seek to destroy the meek, and the disenfranchised, and the marginalized, and we will do it all with soul, with heart and with joy."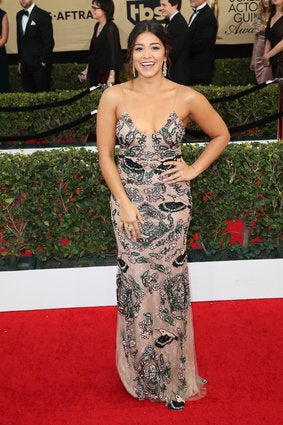 SAG Awards 2017 red carpet