Last week's market euphoria that saw stock indexes hit all-time highs came to a sudden halt on Monday morning as a new reality sank in for traders.
Stocks, led by tech companies, dove on a report that President Donald Trump is planning to restrict the issuance of certain popular work visas, a move that could affect thousands of Canadians, and hundreds of thousands of others.
According to a draft executive order seen by Bloomberg, the Trump administration has plans to overhaul the H1-B visa that many tech companies rely on to fill high-skilled positions.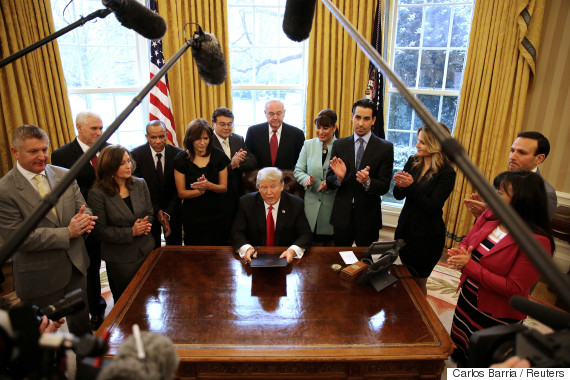 U.S. President Donald Trump, accompanied by small business leaders, signs an executive order cutting regulations, at the Oval Office of the White House in Washington U.S., January 30, 2017. A report in Bloomberg says Trump is planning to limit the use of certain popular work visas. (Photo: Reuters/Carlos Barria)
The order would cap the number of people admitted to the U.S. under that and a number of other work visas, at 85,000 per year. This cap would also apply to the L-1, E-2 and B1 visas, Bloomberg reported.
That's a significant decrease in the issuance of these visas. There were more than 172,000 visas issued in the H1-B category alone in 2015, according to data from the U.S. State Department.
High-skilled Canadian workers in the U.S. are admitted under TN-1 visa, which the Trump administration is reportedly not targeting with this executive order. However, more than 2,900 visas from the affected categories were issued to people in Canada in 2015, State Department numbers show. The category includes intra-company transfers.
"We believe this [executive order] will limit the ability of businesses to bring professionals who they employ abroad from performing any services in the U.S. under the B-1 (business visitor) category," said Ted Ruthizer, a business immigration lawyer with New York-based Kramer, Levin, Naftalis & Frankel LLP.
"Foreign companies that have invested heavily in their U.S. subsidiary companies would likely be prohibited from having any of their employees qualify for the E-2 (treaty investor) status."
It's unknown how the executive order would be implemented, or whether Canadian visa holders would be exempt. The Trump administration has shown a tendency to backtrack on some of the more extreme elements of its executive orders.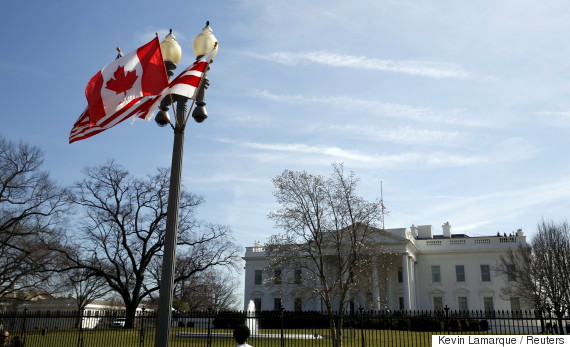 A Canadian flag flutters on a lamp post along Pennsylvania Avenue outside the White House in Washington, March 7, 2016, ahead of a state visit by Prime Minister Justin Trudeau. (Photo: Reuters/Kevin Lamarque)
The NASDAQ Composite index of tech stocks fell 1 per cent within 45 minutes of opening, as traders absorbed the possible impact of this news.
It was the largest drop for the NASDAQ since last September. The Dow Jones Industrial Average and the S&P 500 were also down 1 per cent at 11 a.m. ET, marking their largest drops since last fall.
The H1-B visa has been commonly used to hire people in STEM (scientific, technical, engineering and mathematical) fields, and many tech companies say they could not find the high-skilled employees they need without it.
However, in recent years critics have argued the visa has started to be used in instances where it shouldn't be used, that is, when U.S. residents are available to do the work.
Trump's executive orders on Friday banning entry to citizens of seven predominantly Muslim countries has had an immediate impact on the U.S.'s largest tech companies. Google ordered all its staff traveling abroad to return to the U.S. immediately. At least 100 of its employees are affected by Trump's order, Bloomberg reported.
"We're aware of 76 Microsoft employees who are citizens of these countries and have a U.S. visa and are therefore affected by this new order," Microsoft stated in a letter to staff on Friday, adding there may be more.
Our thoughts on yesterday's U.S. Executive Order on Immigration https://t.co/XaVk2z1sQj on @LinkedIn

— Satya Nadella (@satyanadella) January 28, 2017
In a letter to staff obtained by Business Insider, Apple CEO Tim Cook stated the executive orders are "not a policy we support.
"Apple believes deeply in the importance of immigration — both to our company and to our nation's future. Apple would not exist without immigration, let alone thrive and innovate the way we do."
— With earlier reporting
Also on HuffPost
Trump Immigration Ban Sparks Protests