Canadians are in for an early spring, according to a pudgy, four-legged weather prognosticator who waddled out of his shed Thursday and did not see his shadow.
Nova Scotia's Shubenacadie Sam emerged from a small barn just after 8 a.m. local time and officials declared that the groundhog did not see his shadow in the first of many such weather predictions being made by groundhogs in North America.
Children gathered around the pen as the rodent scurried into a snowy yard, darted around the enclosure and hid behind a promotional banner for the annual event in what was his 29th prediction.
"Soon we shall see the many colours of green,'' a town crier bellowed to the cheers of onlookers at the Shubenacadie Provincial Wildlife Park. "The good news that Sam did bring will mean we get an early spring!''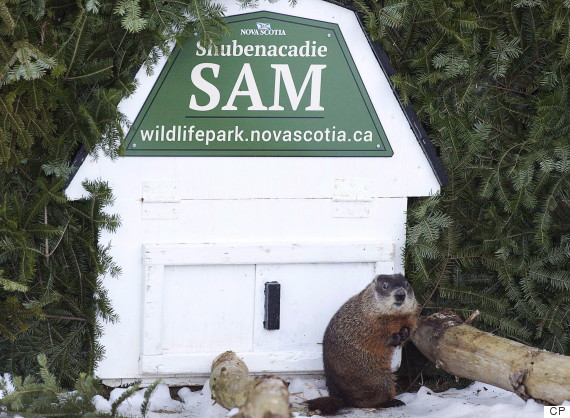 Shubenacadie Sam looks around after emerging from his burrow at the wildlife park in Shubenacadie, N.S. last year. (Photo: CP)
Folklore has it that if the groundhog sees its shadow when it emerges from its burrow on Groundhog Day, there will be six more weeks of winter. If the groundhog doesn't see its shadow, then tradition says spring is on the way.
"We've had a very mild winter so far, so an early spring isn't surprising. When you know, you know,'' said a tweet from the Shubenacadie Sam Twitter account, which describes the groundhog as a nap enthusiast, melon lover and digger of tunnels.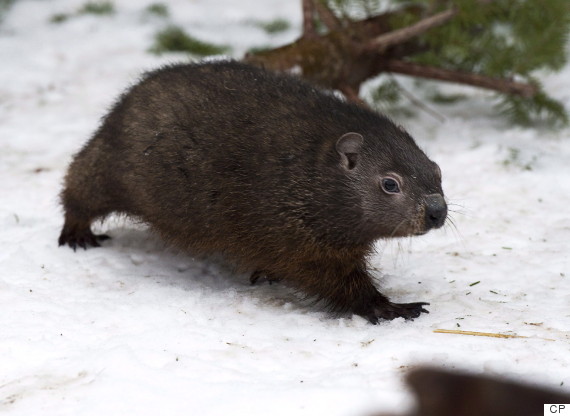 Shubenacadie Sam emerged from a small barn just after 8 a.m. local time. (Photo: CP)
Thousands across the country are expected to turn to four-legged forecasters, like Sam and Wiarton Willie, to learn if spring is just around the corner.
Wiarton Willie, an albino groundhog, was greeted by cheers from a crowd that gathered in Wiarton, Ont., as he shuffled around a small enclosure on a stage.
Willis also "predicted'' an early spring after officials declared he didn't see his shadow.
So, my prediction is official. I didn't see my shadow so an early spring it is. #officialprediction #earlyspring

— Wiarton Willie (@willieofficial) February 2, 2017
The handlers of Pennsylvania's most famous groundhog, Punxsutawney Phil, say the furry rodent has "predicted'' six more weeks of winter after seeing his shadow.
Last year, Sam also predicted the early arrival of spring, though the wintry weather dragged on for months after.
With a file from The Associated Press and HuffPost Canada
Also on HuffPost
10 Things You Didn't Know About Groundhog Day