The fifth grade educator at Ashley Park PreK-8 School in Charlotte, North Carolina, has created a personalized handshake with every single one of his students – and he has 40!
Each morning White performs the inventive greetings with each of his pupils before they enter his English class.
"They know when they get to the front door we do our 'good mornings,' and then it's time to go," White told ABC News. "I'm always pumped up and then we start doing the moves and that brings them excitement and pumps them up for a high-energy class."
White was inspired to try out special handshakes with his students after he noticed his favourite basketball player, Lebron James, doing the same with his teammates. But before introducing the idea to his entire class, he tested it with one student in another course.
"She would come see me before she went to class and sometimes she would get in trouble because she would wait to get the handshake," White told 9News. "Once I saw how simple, but how powerful it was to her, I thought it would be so cool to have for an entire class."
While the idea behind the handshake is to bring joy to students and get them excited for school, White also believes it builds trust between him and his kids.
"I want this to be their sanctuary," he told NBC Charlotte. "I want them to be excited to come to school because before I'm able to deliver a substantial amount of content to them, they have to buy into me. They have to invest in the teacher itself."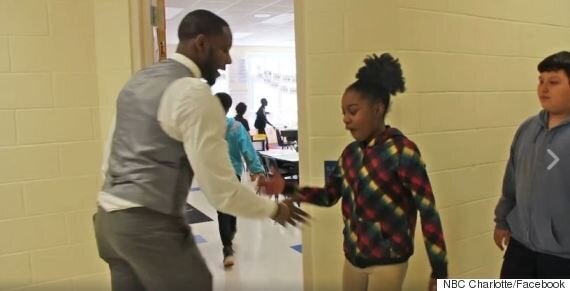 Since a video of White and his students' handshakes has gone viral, the fifth grade teacher has received an overwhelming amount of praise, especially from fellow teachers.
Speaking about White's handshakes, Principal Meaghan Loftus told ABC News: "The only way to help our scholars achieve at high levels every day is to embrace the need for a meaningful and deep relationships. Barry's handshakes represent his own authentic take on building those relationships. When kids know their teacher cares, they are attentive, engaged and driven to be successful. That's the culture we are building at Ashley Park."