OTTAWA — Katimavik, the national youth volunteer program that Prime Minister Justin Trudeau once chaired, says it will have to shut down the organization at the end of March unless the federal government steps in with some cash.
Katimavik's board of directors says it has tried to engage the prime minister, who is also the minister of youth, as well as other cabinet ministers for more than a year but their requests have fallen on deaf ears.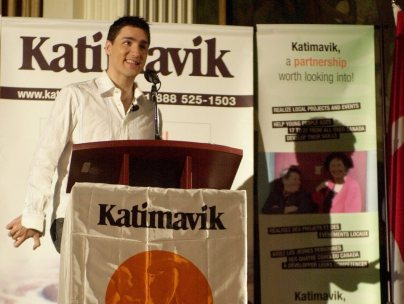 Justin Trudeau, then chairman of the Katimavik board of directors, speaks to students at Jarvis Collegiate on Feb. 25, 2003. (Photo: Tibor Kolley/CP)
The not-for-profit organization, which was founded in 1977 with the mission to help develop responsible, hard-working, compassionate young leaders, was originally hopeful Trudeau would step in to help the program which had all its federal funding slashed by the Conservatives in 2012.
The Liberals' campaign platform, for for example, states: "We will invest $25 million per year in a restored Youth Service Program, to give young Canadians valuable work and life experience, and provide communities with the help required for much-needed projects."
The Grits' first budget seemed equally promising for the organization, with an announcement the government would spend $105 million over five years in funding to help "young Canadians gain valuable work and life experience while providing support for communities across Canada" and another $25 million per year after that to support youth service.
The 2016 budget said details about who would receive funding would be announced in the coming months. But no decision has yet been publicly released.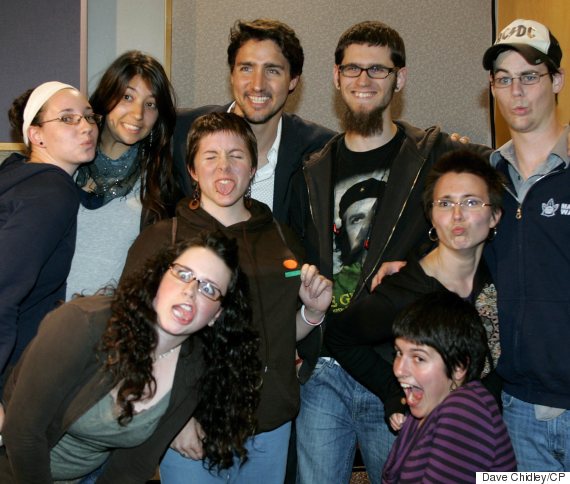 Trudeau posses in London, Ont., on June 5, 2007 with a group of youth who participated in the Katimavik program. (Photo: Dave Chidley/CP)
As a former chair, Trudeau knows Katimavik "inside out," the board's current chair Willy Fournier told The Huffington Post Canada. "He really gets why it works. In the platform, it pretty much describes the types of benefits that have been the hallmark of Katimavik."
But a year after the budget announcement, Fournier now says he's discouraged.
On Thursday, Katimavik took the unusual step of issuing a news release saying that without an explicit commitment from the federal government, the board would have no choice other than to begin an orderly shut-down as of March 31st, 2017.
"This follows efforts for more than a year trying to engage with the federal government in discussions on youth services, with no response," the release states.
Trudeau once said Tories 'hated' program
When the Tories pulled Katimavik's three-year grant worth $45 million, Trudeau suggested the Tories had killed a popular program because the Liberals were closely associated with it.
"Katimavik empowers young Canadians. So CPC hates it," Trudeau tweeted at the time.
Later that year, when Trudeau took part in a celebrity boxing match against then Conservative senator Patrick Brazeau, the future Liberal leader sported a temporary Katimavik tattoo on his right bicep. He told reporters he was thinking about the youth volunteer program in the ring and it was one of the things he wanted to fight for.
As an MP, Trudeau's first legislative effort in 2008 was a motion to consider introducing a national voluntary service policy for young people in Canada.
"We can make anything happen if we put our minds to it."
Congratulations @JustinTrudeau! pic.twitter.com/kpwpfa32H5

— Katimavik (@Katimavik) October 20, 2015
In his 2014 autobiography, "Common Ground," Trudeau wrote that Katimavik "had an enormous impact on this country, one that shouldn't be understated."
His greatest frustration with the program, Trudeau wrote, was that every year, 10 times as many young people applied for the program as it had funding for.
"Ten thousand young Canadians, often unsure about their next step after high school, would offer to serve their country with their energy and efforts, and we would turn away nine out of ten," Trudeau wrote.
"That a country as successful as Canada would not choose to offer young people more opportunities to become active, community-minded citizens while helping local organizations was something I wanted to fix. And still do."
With previous files
Also on HuffPost