Conservative leadership hopefuls gathered in Halifax Saturday for a 14-way debate and unofficial hazing for newcomer, Kevin O'Leary.
The jabs began right off the bat for the investor and reality TV star, who officially launched his campaign last month after a French-language leadership debate.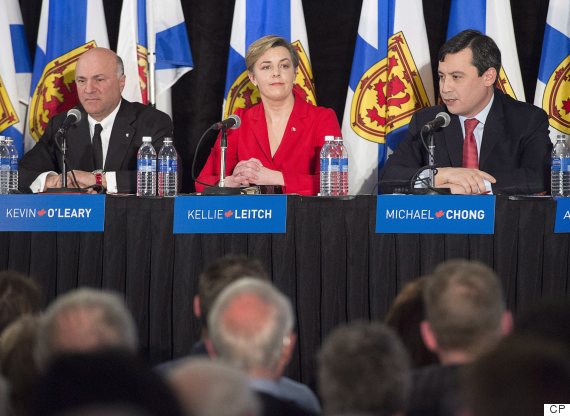 Kellie Leitch sits between Kevin O'Leary (left) and Michael Chong (right) at a candidates leadership debate in Halifax on Feb. 4. (Photo: Andrew Vaughan/The Canadian Press)
Erin O'Toole called O'Leary a "celebrity-in-chief" while Michael Chong focused on his character, pointing to a recent video of the former "Dragon's Den" star firing high-powered weapons at a Miami gun range.
Chong charged the timing of the video, published during the funerals for three of the six victims killed in a Quebec City mosque shooting, would be used against the party in 2019.
"(He) had the audacity to post that video on the very same day we were burying the victims of one of the worst mass shootings in Canadian history," Chong said. "That video will cost us the next election."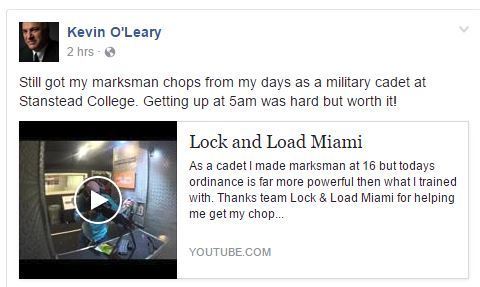 A screengrab of the post O'Leary shared on Facebook and eventually deleted. (Photo: Kevin O'Leary/Facebook)
O'Leary shared the video Wednesday, and eventually deleted the clip from his social media accounts hours after its posting.
The Conservative leadership hopeful cited "respect" as the reason behind his decision to remove the video.
Out of respect for today's service I have taken down my last post.

— Kevin O'Leary (@kevinolearytv) February 2, 2017
Chong brought up the gun video twice in separate remarks — the second time calling O'Leary "Rambo." The "Shark's Tank" star did not respond directly to the Tory MP.
And without mentioning specific names, Chong used his closing remark to lacerate candidates vowing to scrap the Canada Health Act, for those who can't speak French, and against Kellie Leitch for playing into fear and prejudices toward immigrants and refugees.
The 14 leadership candidates engaged in a debate making statements on an array of issues from plans to stimulate the economy, health care, justice reform, and Atlantic Canada's inadequate representation on Parliament Hill.
The Conservative Party of Canada will hold a vote to select its next party leader on May 27.
Six men: Khaled Belkacemi, 60; Azzedine Soufiane, 57; Aboubaker Thabti, 44; Abdelkrim Hassane, 41; Mamadou Tanou Barry, 42; Ibrahima Barry, 39, died after a gunman attacked a Quebec City mosque in the neighbourhood of Sainte-Foy on Jan. 29.
They were inside the mosque when shots rang out after evening prayers.
Also on HuffPost
Conservative Leadership Candidates