It may be Super Bowl Sunday, but the Schuyler sisters from "Hamilton" want you to know they're here for the sisterhood.
The three original performers from the hit Broadway musical took the field in Houston to sing "America The Beautiful" before the official kickoff. And Jasmine Cephas Jones, Renée Elise Goldsberry and Phillipa Soo took a stance for feminism while they were at it, by adding a little something extra to the historical song.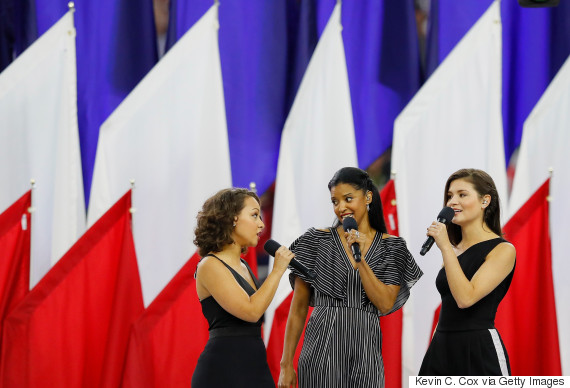 "And crown thy good with brotherhood ... and sisterhood," the trio belted out.
The added lyrics were met with cheers and applauds from crowds both in the stadium and fans watching at home.
Twitter users praised the performers and called the women "heroes."
"And sisterhood"AHH THEY ARE MY HEROES😍WHY DOES ANYONE ACTUALLY NEED TO WATCH THE GAME❤@HamiltonMusical@Lin_Manuel#SuperBowl #AndSisterhoodpic.twitter.com/pYhI2zJxPc

— Auden (@auden2020) February 5, 2017
#sisterhood! I can stop watching the #Super Bowl now!

— Jenny Zehringer (@Jenburg) February 5, 2017
yas "with SISTERHOOD" thank you #SchuylerSisters#SuperBowl#Falcons#Hamilton

— b spice (@bspicybsalty) February 5, 2017
A few commenters said the change hit a sour note:
.@chrissyteigen Does EVERYTHING have to be PC bullsh*t? Not appropriate to change words. I grew knowing better. #sisterhood@NFL#SuperBowl

— Susan Christine (@LoveOireachtas) February 6, 2017
But their updated version did win rave reviews from "Hamilton" creator, Lin Manuel-Miranda:
AND SISTERHOOD. pic.twitter.com/2Zx8Sg9XmW

— Lin-Manuel Miranda (@Lin_Manuel) February 5, 2017
And seemed much better received than that time the 'Lone Wolf' tenor, Remigio Pereira, altered the lyrics of 'O Canada' to include the controversial phrase 'All lives matter.'
Video: Canadian quartet @TenorsMusic change O Canada lyrics at @MLB@AllStarGame in support of All Lives Matter. pic.twitter.com/dm1XOPne4S

— Bill Cooney (@BillCooney) July 13, 2016
Watch a clip of the performance below.
#SB51: Watch the cast of 'Hamilton' sing "America the Beautiful" at the Super Bowl. pic.twitter.com/fLPljYBe2z

— Hollywood Reporter (@THR) February 5, 2017
Also on HuffPost