Lady Gaga is the real MVP.
And she did not disappoint.
As the roof of Houston's NRG stadium opened Sunday, the "Joanne" singer stood above the crowd in a glittering Versace leotard and boots. An army of red, white and blue drones flew above her and she performed a medley of "God Bless America" and "This Land Is Your Land" before reciting a portion of the Pledge of Allegiance.
"One Nation under God, indivisible, with liberty and justice for all," she said sweetly.
And then it happened. She jumped off the roof.
Flipping through the air like Spiderman or an acrobatic spy, Gaga's feet eventually landed on the stage.
Gaga kicked off the halftime spectacle by belting out her hit track "Poker Face." By then, Twitter had completely lost it.
Even Hillary tweeted she's a fan.
"We're here to make you feel good, want to feel good with us?" Stefani Joanne Angelina Germanotta said.
Performances of "Telephone," "Million Reasons," and of course, "Born This Way," followed.
"Don't be a drag, just be a queen, whether you're broke or evergreen. You're black, white, beige, chola descent, you're Lebanese, you're orient. Whether life's disabilities, left you outcast, bullied, or teased, rejoice and love yourself today 'cause baby you were born this way," she sang.
Fans freaked. Celebs freaked out. We all freaked out.
And for Gaga, it was a dream performance.
"Hi dad. Hi mom," she said into the microphone.
Before taking the Super Bowl stage, Gaga took to Instagram to share a message of support, love and acceptance with her 21.4 million followers.
"I want to say thank you to my fans for cheering me on all these years. There will not be any guest performers tonight, I'm doing these 13 minutes solo! I dedicate every second to the love, diversity, compassion, and wild spirit of our fan base."
"To that kid who felt unwanted, or the grown up who remembers how hard it was to find acceptance. This is for you. It is also for those whose hearts and minds have opened to our message," she continued.
She concluded with, "Thank you for believing in us so we could be here today little monsters this is YOUR stage. And I'm gonna leave my heart on it so you never forget it. Let's do this."
Watch Lady Gaga's full Super Bowl Halftime performance here: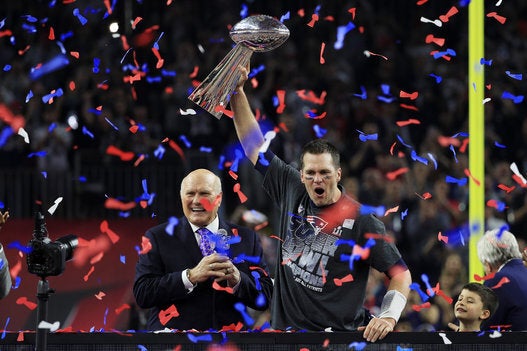 Super Bowl 2017: New England Patriots vs. Atlanta Falcons