In 2012, the world was obsessed with Kristen Stewart and Robert Pattinson's relationship.
The "Twilight" movie franchise was at its peak and fans had a lot of feelings. Were KStew and RPatz together or was it fake? Kristen cheated on Rob! Why did Rob take her back? Why did they break up? So many emotions.
Among those who had a lot to say in regards to this young Hollywood romance? None other than Donald Trump.
After Friday's Twilight release, I hope Robert Pattinson will not be seen in public with Kristen--she will cheat on him again!

— Donald J. Trump (@realDonaldTrump) November 13, 2012
And Kristen Stewart finally addressed the POTUS' weird obsession with her while hosting "Saturday Night Live" this weekend.
Watch Kristen Stewart's SNL monologue where she calls out Donald Trump & claims he is in love with Robert Pattinson. pic.twitter.com/tHSE7ZSJ0w

— Pop Crave (@PopCravings) February 5, 2017
"I'm a little nervous to be hosting, to be honest," the actress awkwardly said. "Because I know the president is watching and I don't think he likes me that much!"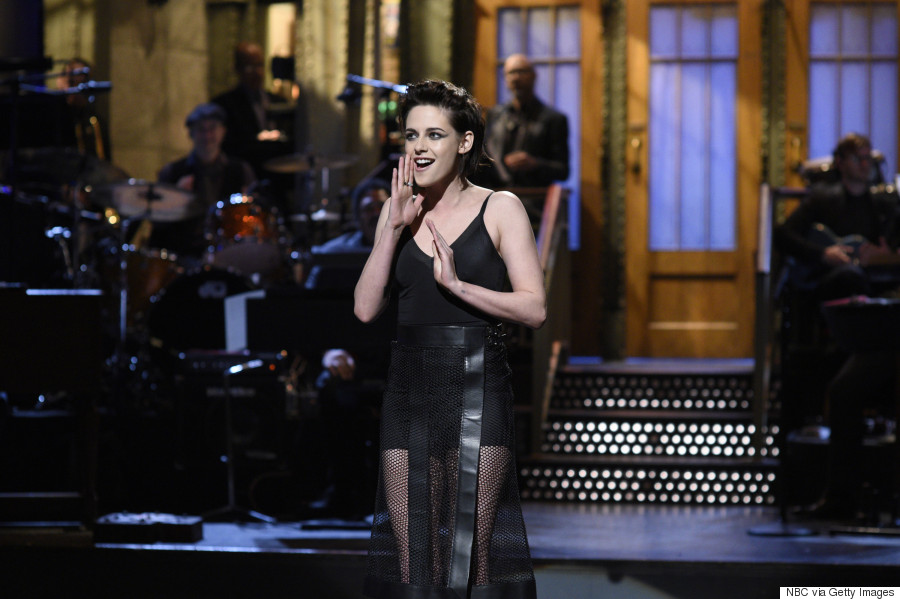 That's when Kristen went on to explain Trump's obsession with her relationship with her ex.
"We broke up and then got back together and for some reason it made Donald Trump go insane," the 26-year-old said.
The "Clouds of Sils Maria" star said Trump tweeted about her relationship with Pattinson on 11 separate occasions back in 2012.
In honor of Kristen Stewart hosting SNL - here are the 8 tweets President Trump posted about her in the past. pic.twitter.com/0m24xxhGSg

— Yashar (@yashar) February 5, 2017
The first time, he said this:
Robert Pattinson should not take back Kristen Stewart. She cheated on him like a dog & will do it again--just watch. He can do much better!

— Donald J. Trump (@realDonaldTrump) October 17, 2012
"Robert Pattinson should not take back Kristen Stewart. She cheated on him like a dog and will do it again. Just watch, he can do so much better."
And then this:
Lots of response to my Pattinson/Kristen Stewart reunion. She will cheat again--100 certain--am I ever wrong?

— Donald J. Trump (@realDonaldTrump) October 18, 2012
"Am I ever wrong?"
Yikes.
Finally, KStew looked into the camera to finally speak directly to Trump.
I'm so in love with you #KristenStewart #SNL pic.twitter.com/bHxki9AJzA

— Imagine (My) Dragons (@zajehoxha) February 5, 2017
"Donald, if you didn't like me then, you're really probably not going to like me now, 'cause I'm hosting 'SNL' and I'm like, so gay dude."
Loved #KristenStewart's monologue! Loved it! I bet she got a bunch of new fans tonight! #SNL pic.twitter.com/iu9DGDuOb0

— Angela Reese (@alegna7896) February 5, 2017
Mic. Dropped.
As The Huffington Post notes, this was the first time Stewart publicly used the word "gay" in reference to herself. She is currently dating Victoria's Secret model, Stella Maxwell.
In a 2016 interview with Elle UK, Stewart talked about her sexuality and how dating girls forced her to be more open.
"To hide this provides the implication that I'm not down with it or I'm ashamed of it, so I had to alter how I approached being in public. It opened my life up and I'm so much happier."
Despite an F-bomb drop in the opening minutes, the episode lived up to its weekly duty of delivering a number of hits to the Trump administration, including Melissa McCarthy's perfect portrayal of White House press secretary Sean Spicer and a showing of the Grim Reaper as Steve Bannon.
Donald Trump and company are in the situation room coming up with how to deal with that #SNL and Melissa McCarthy @nbcsnl #KristenStewart

— Anthony Domingo (@adomingo2) February 5, 2017
Yup, "Saturday Night Live" managed to pull out all the stops yet again.
Also on HuffPost
JON KOPALOFF VIA GETTY IMAGES

This Effortlessly Chic Look

BARCROFT MEDIA VIA GETTY IMAGES

This Striking Navy Eyeliner

GEORGE PIMENTEL VIA GETTY IMAGES

Grant Lamos IV via Getty Images

Nicholas Hunt via Getty Images

Dimitrios Kambouris via Getty Images

This Smoky Eye And Slicked Hair Combo

JB Lacroix via Getty Images

This Silvery Shadow And Perfect Eyeliner

Kristy Sparow via Getty Images

Steve Granitz via Getty Images

This Shimmering Smoky Eye

Pascal Le Segretain via Getty Images

This Heavy Eyeliner And Peachy Lip

Stuart Wilson via Getty Images

This Black And Blue Drama

Jamie McCarthy via Getty Images

Anadolu Agency via Getty Images

This Silvery Blue Goodness

Jon Kopaloff via Getty Images

This Silver Shadow And Nude Lip Combo

Jeffrey Mayer via Getty Images

Jason Merritt via Getty Images

Yet Another Perfect Smoky Eye Look

Pascal Le Segretain via Getty Images

This Bronzed Look And Light Coral Lip

Jim Spellman via Getty Images

Araya Diaz via Getty Images

This Dramatic Cateye Look

Steve Granitz via Getty Images

Karwai Tang via Getty Images

Michael Loccisano via Getty Images

Dimitrios Kambouris via Getty Images

This Magenta Lip And Golden Eye Look

Jason Merritt via Getty Images

Vera Anderson via Getty Images

This Rock'n'Roll-Inspired Look

Eamonn McCormack via Getty Images