Canada is far and away the most preferred destination for high-skilled workers in the U.S. looking for alternatives in the age of Trump, research from job search site Indeed suggests.
And that means Canada's talent-starved tech industry could find a much-needed injection of new blood, if President Donald Trump goes ahead with a plan to limit the number of H1-B visas — or possibly even without the move.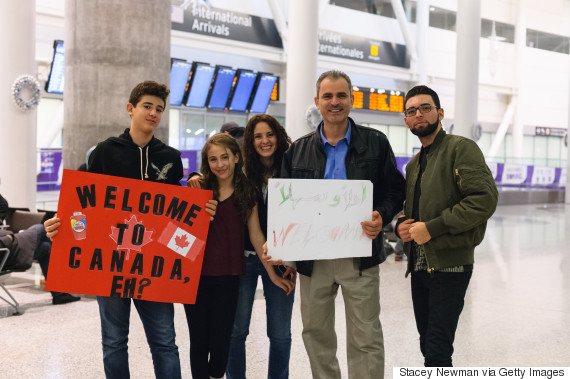 Sponsors, family, and Canadian residents offer their welcome to Syrian refugees arriving at Toronto's Pearson Airport, December 11, 2015. Canada's welcoming attitude to foreigners could be an economic benefit if the Trump administration restricts work visas. (Photo: Stacey Newman via Getty Images)
In the quarter before Trump became president, Indeed noted a 40-per-cent spike in the number of searches for jobs abroad linked to foreign worker visas — in other words, people in the U.S. looking for work abroad.
Of those searches, 42.7 per cent were directed at Canada. The next most popular destination was Australia, with 11.9 per cent of searches.
The data "confirms that Canada may benefit the most if the U.S. curbs its H-1B visa program," Indeed said in a statement emailed to media.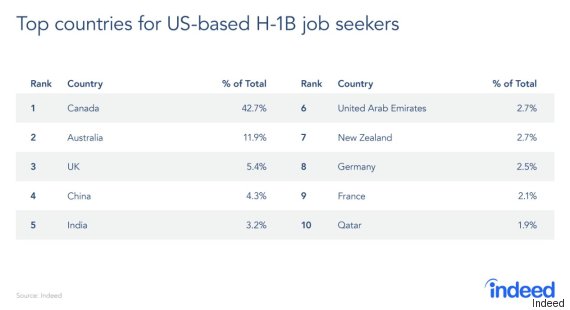 A report last year from the Information and Communications Technology Council (ICTC) estimated Canada will create at least 218,000 new high-tech jobs by 2020, but isn't graduating enough skilled tech workers to fill them. Canada would need to increase the number of tech graduates by 50 per cent — or admit more foreign workers — to fill the gap.
But what could be a boost to Canada's tech sector could do serious damage to the U.S.'s tech sector, which relies heavily on foreign talent. Two-thirds of the U.S.'s H1-B visas go to computer-related jobs, according to data from the Department of Homeland Security.
A 2016 study from the National Foundation for American Policy (NFAP) found that more than half of the U.S.'s tech "unicorns" — meaning startups that come to be worth more than US$1 billion — have at least one immigrant founder. Each, on average, created 760 jobs.
U.S. tech companies are reportedly already working on contingency plans to set up offices in Canada if they are unable to bring foreign workers into the U.S. under the H1-B visa.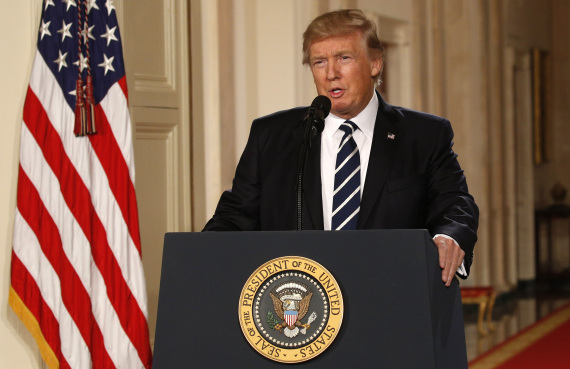 President Donald Trump announces his nomination of Neil Gorsuch to be an associate justice of the U.S. Supreme Court at the White House in Washington, D.C., January 31, 2017. The White House is reportedly preparing an executive order that would restrict certain work visas to the U.S. (Photo: Reuters/Kevin Lamarque)
A draft executive order obtained by several news sources last week indicates the Trump administration is planning to limit the number of new H1-B visas. The U.S. limits them to 85,000 per year, but also runs a lottery that hands out additional visas. The U.S. admitted 172,000 people on an H1-B visa in 2015, according to data from the State Department.
High-skilled Canadian workers come to the U.S. under a NAFTA visa, the TN-1, rather than the H1-B.
But Trump's order would also limit the issuance of L-1, E-2 and B1 work visas. That could affect thousands of Canadians, including those in the U.S. under an intra-company transfer. U.S. State Department data shows more than 2,900 potentially affected work visas were issued to Canadians in 2015.
U.S. tech giants, already upset by having some of their employees stranded by Trump's travel ban on refugees and citizens of seven Muslim-majority countries, are rallying against the new executive order.
The Trump administration, and many other critics, say the H1-B visa program is being abused. Outsourcing firms often grab large chunks of the available visas, then sell them off to tech companies, keeping a sizable cut of the salary, CNN reports.
Follow The Huffington Post Canada on Facebook, Twitter, and Instagram.
Also on HuffPost