Tory leadership candidate Deepak Obhrai has called out the conservative think tank named after his one-time leader for an upcoming discussion it will host on the "rising threat of radical Islam."
Obhrai, a Calgary MP who was first elected under the Reform banner in 1997, sent a letter to Preston Manning Monday criticizing the event at this month's Manning Networking Conference, an annual gathering of right-wing thinkers and politicians in Ottawa.
The Manning Centre advertised the talk online this week with a tweet featuring the image of a bomb. Though the tweet appears to have been deleted, a Facebook post from December shows the same image.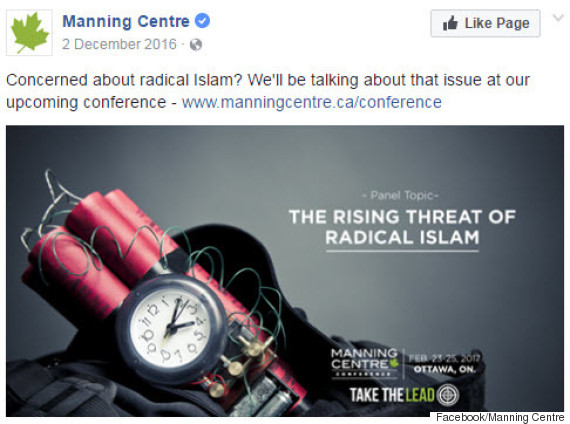 Screengrab from Manning Centre Facebook post on Dec. 2, 2016.
In his letter, Obhrai told Manning it was "irresponsible to identify a particular religion" in today's "culture of fear."
He asked that the focus of the talk instead be on the "threat of extremism" to Canadians.
"Extremism exists across a wide spectrum of society," he said in the letter, noting that the Air India bombing and a recent attack on a Quebec City mosque show Canadians face a "multifaceted threat."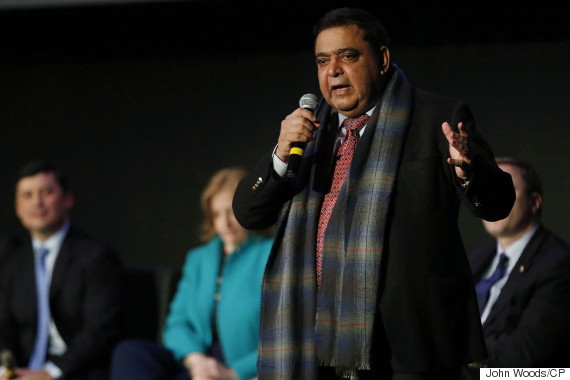 Deepak Obhrai speaks at a Conservative leadership forum in Winnipeg on Jan. 19, 2017. (Photo: John Woods/CP)
There are two events scheduled at the conference dealing with the topic. In addition to a discussion group on "radical Islam," there will also be a talk on "Leading the Response to Islamist Extremism and its Ideology in Canada."
Both events will feature security expert Thomas Quiggin and Raheel Raza, president of The Council for Muslims Facing Tomorrow. Raza's group seeks, according to its mission, to "reclaim Islam for, as the word itself means, securing Peace for all people."
Colin Craig, director of senior communications for the Manning Centre, told The Huffington Post Canada in an email that Raza, a "respected Muslim human rights advocate," will lead a thoughtful discussion about attacks "by radical Islamic extremists" in places such as Ottawa, New York, Boston, and Paris.
"The conversation will be respectful and will help those seeking answers about what can be done to address the problem," Craig said. "Some people want to ignore the issue, but the problem isn't going away. We just saw another attack in Paris last week."
"Extremism exists across a wide spectrum of society."
Despite his concerns, Obhrai told Calgary Metro Monday he still plans to participate in the conference's leadership debate on Feb. 24.
Obhrai has sparked a number of memorable moments on debate stages throughout the leadership race, but he has also spoken out about the need for all communities to tackle the scourge of extremism.
"Muslims must stand up to fundamentalists. Hindus must stand up to fundamentalists. Christians must stand up to fundamentalists,"Obhrai said at a debate in Moncton in December.
"Our country is built on respecting the human rights of everyone. This is our core principle."
Obhrai has criticized Leitch's 'anti-Canadian values' plan
He has also called out leadership rival Kellie Leitch for her controversial plan to screen immigrants, refugees and visitors for so-called "anti-Canadian values."
After the horrific shooting in Quebec City last month, in which six Muslim men were killed while praying, a reporter asked Obhrai if he felt his party shared any blame for a rise in anti-Islamic sentiment.
"I think all of us have to be a little more careful in what we say and how we say. And that we don't give fuel to community-based politics," Obhrai said. "We don't give fuel to that divisiveness."
Also on HuffPost
Conservative Leadership Candidates