An idea thrown around Twitter suggesting "Saturday Night Live" enlist Rosie O'Donnell to play Steve Bannon has earned an enthusiastic response from the comedian herself.
It's a "funny idea" O'Donnell praised Monday.
available - if called i will serve !!! https://t.co/LT84EJjfsw

— ROSIE (@Rosie) February 7, 2017
#BannoninChief https://t.co/UVkK2D6byX

— ROSIE (@Rosie) February 7, 2017
The pitch builds on acclaim the longtime sketch comedy show has received for Alec Baldwin's portrayal of Donald Trump, as well as Melissa McCarthy's recent impression of White House press secretary Sean Spicer.
Trump has been a vocal critic against Baldwin's characterization, calling the show "biased" against him.
Just tried watching Saturday Night Live - unwatchable! Totally biased, not funny and the Baldwin impersonation just can't get any worse. Sad

— Donald J. Trump (@realDonaldTrump) December 4, 2016
Bannon, a Washington outsider who formerly served as chairman of the far-right website Breitbart News, is currently a White House chief strategist to the president.
His omnipresence and influence over Trump's policies was recently spoofed by SNL, with Bannon portrayed as the grim reaper sitting in the president's chair in the Oval Office.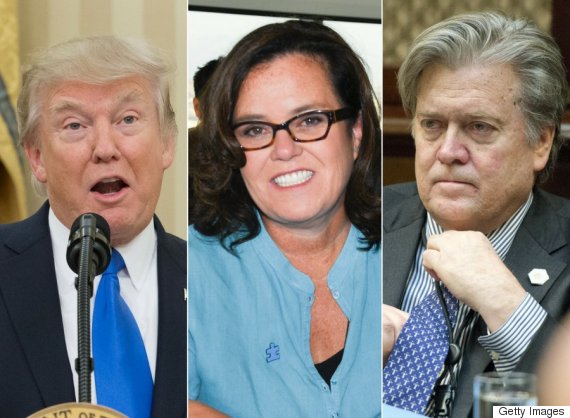 Rosie O'Donnell says she's willing to play Trump chief strategist Steve Bannon if 'SNL' comes calling. (Photo: Getty Images)
Buzz over the possibility of O'Donnell playing the Trump adviser may only rile the pair's already volatile relationship.
The two have famously feuded for over a decade, exchanging insults over Twitter — an avenue Trump has continued to use to drop one-liners and put-downs as commander-in-chief.
Also on HuffPost