After a year of being fashion's fastest rising star, Ashley Graham has finally landed the cover of Vogue.
Posing alongside models Liu Wen, Kendall Jenner, Gigi Hadid, Imaan Hammam, Adwoa Aboah, and Vittoria Ceretti, the 29-year-old "size sexy" beauty matches her fellow "It" girls in black Prada turtlenecks and patterned shorts.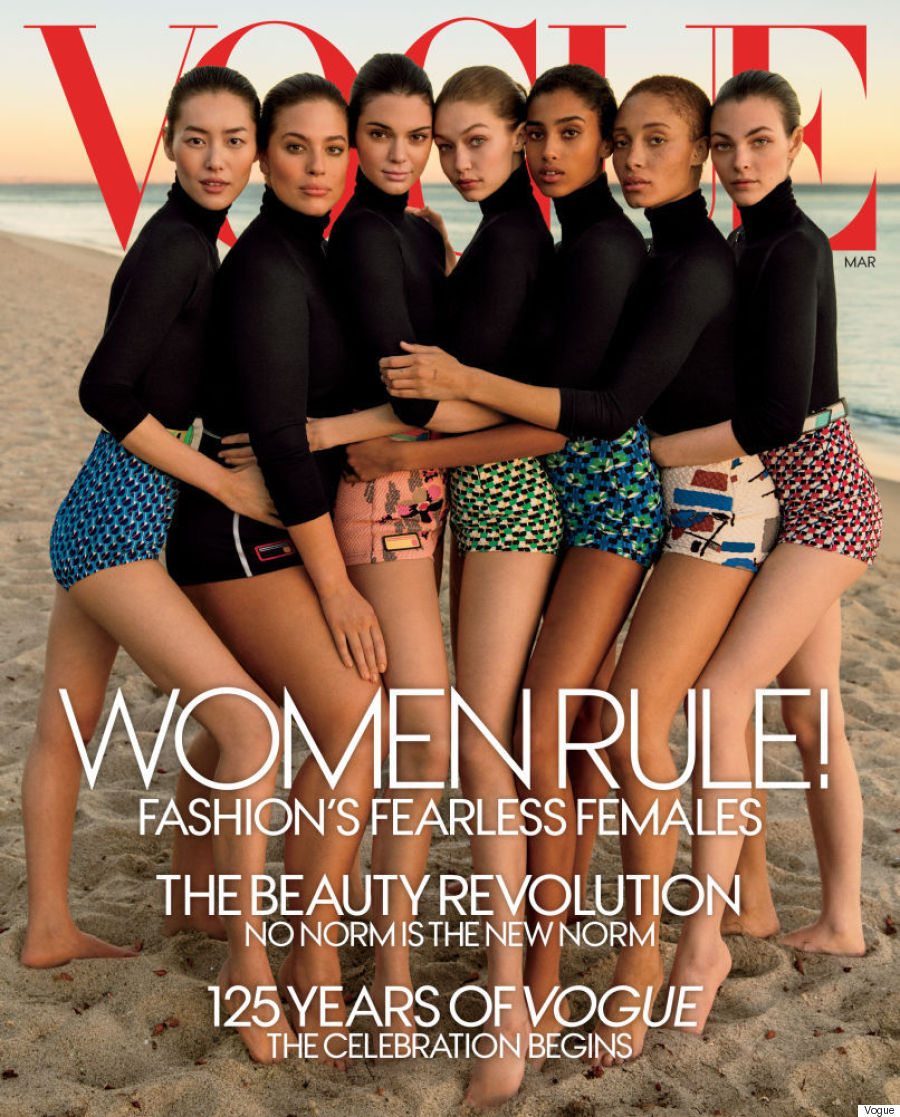 In the image, "fashion's fearless females" embrace each other for the March issue of the legendary glossy.
According to Vogue, "Each of these cover girls proudly inhabits her own particular gorgeousness in her own particular way. Together they represent a seismic social shift: The new beauty norm is no norm."
"In a climate of immigration bans and building walls, the biggest names in 2017 make the case that there isn't just one type of American girl — nor has there ever been," Vogue said of its diverse cover, which sees the celebration of ethnicity, curves and differences.
For Graham, who was told multiple times she'd never be a cover girl during the early days of her career, landing the front of the fashion bible is a "Dream. Come. True."
Vogue talks of the size 16 model as an advocate for "full-figured women who felt unseen" by the fashion world and praise her for her "refusal to be marginalized on the basis of her shape," which "has made her an icon for women."
Ashley even speaks on behalf of women her size.
"Sixty-seven per cent of the women in America wear a size 14 or larger," Graham says. "Sixty-seven per cent. Maybe you could ignore those consumers before, but now, thanks to social media, they're making their voices heard. Women are demanding that brands give them what they want. And what they want is to be visible."
Although the cover is stunning, it has generated some controversy.
Fans of Graham were quick to point out that while the other models are holding each other at the waist, Ashley's hand is resting on her thigh, perhaps as a way to camouflage her size.
Others are convinced Gigi Hadid's hands and arms were photoshopped to make Graham appear thinner.
Regardless, we're glad to see Vogue finally realize that our differences are what make us beautiful.
This isn't Graham's first Vogue cover either. The Sports Illustrated model appeared on the cover of British Vogue's January issue all by herself.
Here's hoping U.S. Vogue will follow suit!
Also on HuffPost