Jason Derulo is slamming American Airlines after the police were called on him and his crew following a dispute at Miami International Airport. The singer now claims the incident was "racial discrimination," as the situation only lightened up after everyone found out who he was.
"If I was not who I was, if I wasn't Jason Derulo, I wouldn't be here right now, I'd be in fucking cuffs," he said in a TMZ video. "It's 100 per cent racial because the initial thought in people's minds is 'these hoodlums are causing problems.'"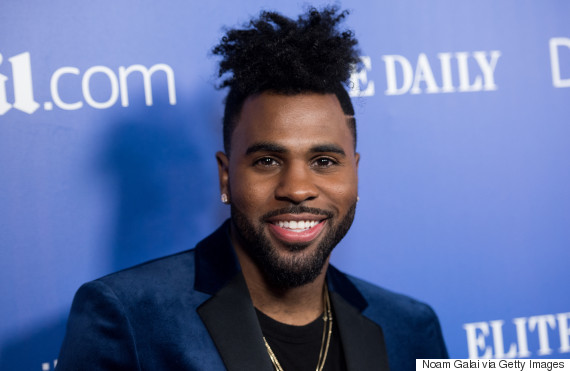 On Wednesday, Derulo and seven members of his entourage had a dispute with American Airlines over checked baggage when they were heading from Miami to Los Angeles. TMZ reports that the singer and his team tried to check nearly 20 bags, but because they arrived too late to do so, they left their luggage with another member to take on a later flight.
Just as Derulo's plane was getting ready to depart, the 27-year-old received a call from the member they had left saying the airline wanted to charge them $4,000 for extra luggage. Derulo then told the pilot to turn the plane around and was met with over a dozen police officers at the gate.
On Instagram, the "Talk Dirty" singer wrote about the incident, saying: "I spent millions on your airline throughout the past ten years between myself and my entire staff but have still experienced racial discrimination today at miami airport!!! Called 15 police officers on me as if I'm a criminal! It's not ok that when you find out who I am the gears change! Fuck that!! I want answers."
In addition to the police officers, Derulo also claimed that he was treated with disrespect during the entire ordeal and that the pilot rudely cursed at him and his crew.
"That was really upsetting to me because I felt like he was trying to make it seem like we were delinquents, and he was kicking us off the plane, when it was us that asked to get off the plane," Derulo said in the TMZ video. "I was like, 'Listen, sir, you're not going to talk down to me; I'm not your son. Don't talk to me in that tone of voice.'"
Derulo is a Concierge Key member of American Airlines, which he says allows him to check in an unlimited number of bags. However, the airline told Local 10 News that elite customers only receive three free checked bags, which is why Derulo was charged $4,000.
Following the incident, American Airlines released the following statement:
"American Airlines flight 275 returned to the gate prior to departure. A passenger elected to deplane in order to travel with their checked bags. The passenger has been rebooked with his checked bags on a later flight this evening."
Despite this, Derulo told People magazine that he won't forget what happened. "I just want everybody to be treated with respect," he said. "At the end of the day, you get what you pay for. I'm not asking for anything extra, I'm not asking to be taken care of."
Also on HuffPost