A new tax on pop and other sugary drinks could be added to shoppers' bills in the Northwest Territories as early as next year to curb obesity and diabetes rates in Canada's north.
Finance Minister Robert McLeod proposed the tax in a budget speech Wednesday, CBC News reports.
"While our intention is to introduce a sugary drink tax in 2018-19, we will take the time during the upcoming fiscal year to ensure our approach is as effective as possible," McLeod said.
According to 2014 data from the N.W.T. Bureau of Statistics, 32.2 per cent of adults over the age of 18 qualify as obese.
Ten per cent of residents over the age of 24 have diabetes.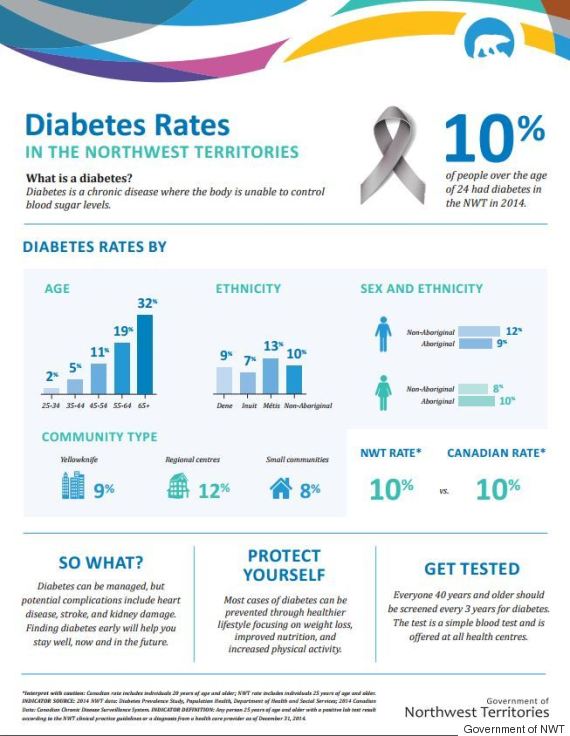 Handout from the N.W.T. government detailing the territory's diabetes rates. (Credit: Government of N.W.T.)
It's a tax that's previously been suggested by the Canadian Diabetes Association (CDA).
In 2015, the CDA lobbied the Canadian government to tax sweet beverages including non-diet pop, sweetened iced teas, sports drinks, energy drinks, fruit-flavoured drinks (like fruit punch or vitamin waters) and blended coffee drinks.
At the time, CDA President and CEO Rick Blickstead warned "excessive consumption of sugar-sweetened beverages directly increases the risk of developing type 2 diabetes."
A March 2016 Senate report titled, "Obesity in Canada," also recommended the federal government consider a national tax on sugary drinks. The Heart and Stroke urged Ottawa to impose a tax of five cents per 100 millilitres on sugar-sweetened beverages.
The levy would be a sustainable source of tax revenue that would generate $1.8 billion every year for the public treasury, the foundation said.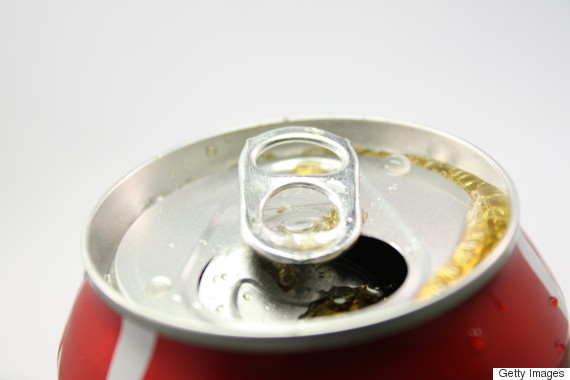 The Northwest Territories is considering a tax on sugary drinks. (Photo: Getty)
Similar taxes have been implemented worldwide in recent years.
In Mexico, a 2014 tax on pop and juice raised the price of sugary drinks by approximately 10 per cent. According to Wired magazine, the tax resulted in a 12 per cent drop in the sale of sugar-sweetened beverages within a year.
A similar 2015 tax in Berkeley, Calif. has curbed consumption of sugary drinks in some neighbourhoods by a whopping 20 per cent, reports NPR.
And in Europe, a recent ruling in France has banned free refills on pop.
But these type of taxes don't always sit well with consumers.
South of the border, some Philadelphia residents were outraged earlier this year over an 1.5-cent-per-ounce tax on the price of a drink at checkout, reported CBS News.
Effectiveness of the tax questioned
There's also concern soda taxes aimed at improving nutrition don't always work and often hurt low-income earners the most.
The Canadian Beverage Association has previously expressed such concerns.
The association, which represents 60,000 workers in the industry, has said efforts to tax these products have proven ineffective in reducing consumption in other jurisdictions. It also warned it would increase the cost of groceries.
"It is important to note that obesity has continued to rise steadily over the past 20 years, while consumption of sugar-sweetened beverages and beverage calories overall, has been declining over the same period," the association said in a statement in response to the 2016 Senate report.
The memo listed some examples, including targeted taxes imposed on specific products to improve nutrition.
Among them, it cited how Denmark's government repealed its 15-month old "fat tax" in 2012 and said a proposal to tax sugar would be abandoned out of concerns it would hurt low-income earners. The country also repealed its decades-old tax on soft drinks the following year.
Canada's Liberal government explored the idea of a soda pop tax last year, but Finance Minister Bill Morneau's spring budget only pledged to help "families make better food choices." It made no mention of imposing taxes on sugary beverages.
With files from The Canadian Press
Follow The Huffington Post Canada on Facebook, Twitter, and Instagram.
Also on HuffPost